Juicy Lucy's have almost been never good… until now |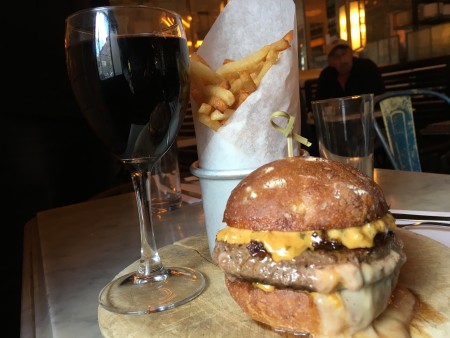 Until November 4, Napa Valley Vinters is teaming up with restaurants all over New York City to pair their burgers with Napa Valley wines. Schiller's broke out an off-menu Juicy Lucy and paired it with a cab sav, and boy howdy did this sucker deliver.
Burger Ordered: The Juicy Lucy
The Taste: This Pat LaFrieda patty makes the most of its wine pairing by topping the burger with red wine onion-bacon jam. It's also covered in special sauce and filled with gooey muenster cheese, while resting on a bun from Balthazar Bakery. I normally dislike Juicy Lucys a great deal, as either the meat is overcooked or the cheese inside isn't melted. The burger at Schiller's had neither problem, and featured amazing flavor from every element of the burger. The bun was porous enough to help a little in soaking up a bit of the very messy elements. The special sauce and the bacon jam were delightful, and did link the not-commonly-paired wine and burger together well. And most impressive were the cheese and beef, as the folks in the kitchen somehow managed to grill a perfect Juicy Lucy. Color me impressed.
The Verdict: I don't know if you'll be able to get this burger after November 4th, so my advice is not to wait. If you happen to miss the Somms & Sliders promotion from Napa Valley Vinters, I think it's safe to say that the other burgers at Schiller's (and the killer fries) will be worth your while.
Schiller's Liquor Bar is located at 131 Rivington Street in Manhattan, New York.
Sign up for Burger Weekly email updates!