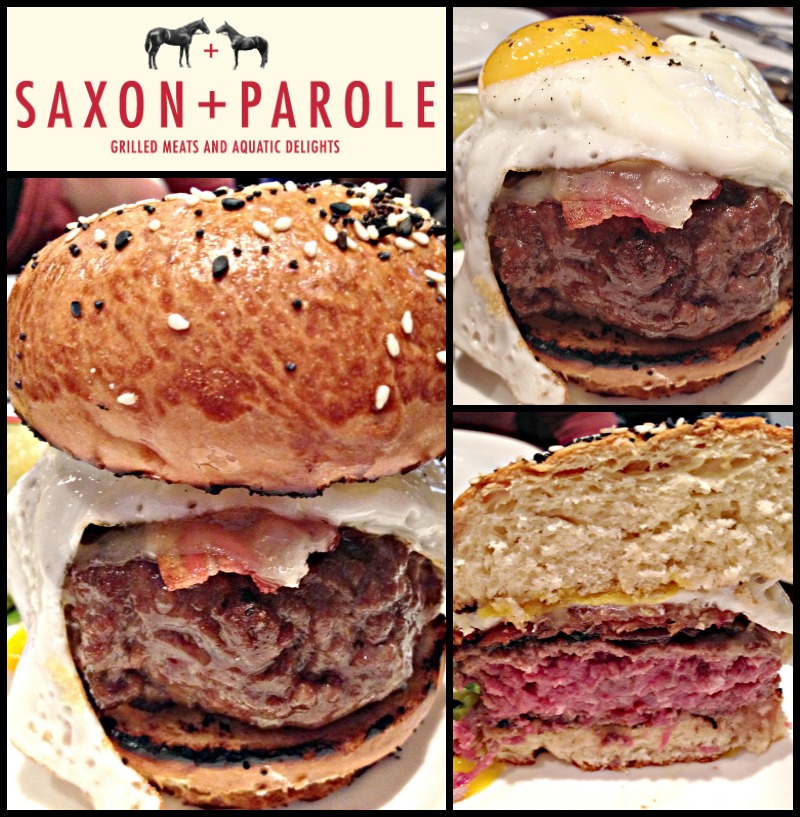 The Experience: Located in the tiny neighborhood of Noho, home of the previous Burger Adventure at Five Points, Saxon + Parole is the first ever equestrian themed bar featured on Burger Weekly. Don't worry, no horse meat is served here. In fact, the restaurant is named for championship horses of the late 19th century. Executive Chef Brad Farmerie's surf and turf joint has been racking up rave recommendations since opening in 2011, so it was only a matter of time before the Burgermeisters tested his wares.
Burger Ordered: S+P Dry Aged Angus Burger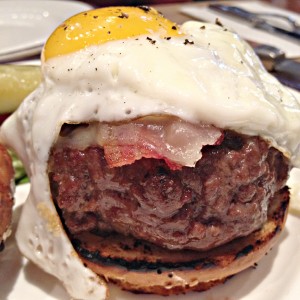 The Taste: Immediately, the Burgermeisters knew that ketchup was not going to be necessary on this burger, given everything else that was piled on top. Pennsylvania Havarti cheese, maple bacon, and a fried egg were the key elements in this meal. The first bite brought the taste of bacon to the forefront. It was not overpowering at all, with just the perfect touch of sweetness. The meat was cooked to a beautiful medium rare with a nice charred outside. The bun was tasty and toasted, which stopped the burger from getting too soggy. Half of a burger is likely enough to fill any belly, especially with fries on the side covered in a phenomenal bleu cheese aioli.
The Verdict: This burger was delicious and gets an easy recommendation. Bring a friend, because it's more than enough to satisfy multiple appetites.
Saxon + Parole is located at 316 Bowery at Bleecker Street in Manhattan, New York.