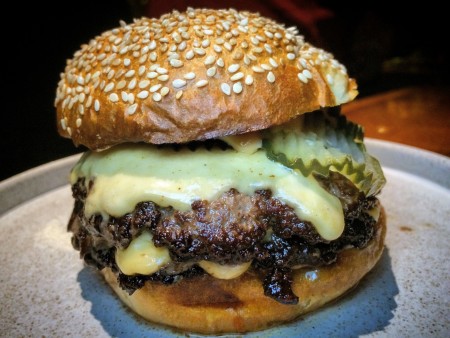 Two days ago, April Bloomfield's Salvation Burger opened to the public. There was a lot of hype surrounding this burger joint in the months leading up to its opening, and I bought into it completely. The internet and my friends both had me feeling like this was a burger I had to eat the moment that it became available, and that's exactly what I did.
First things first, this won't be a typical Burger Weekly-style review, because I don't think it's fair to judge a place based on its opening night. That said, I'm not going to talk about the service at all.
I went into my evening at Salvation Burger with mixed feelings about Bloomfield's burgers. On the one hand, I don't like the Spotted Pig all that much. I find getting a table at the place to be a pain in the ass, and the burger is kind of a pain in the ass as well. There is a really solid clone of the burger at the Fillmore Room, a place that is generally much less difficult to get into. On the other hand, I am a massive fan of the lamb burger at the Breslin. It's probably the best lamb burger in the city, and the second best lamb burger that I've had, full stop.
Salvation Burger offers two takes on the beef burger. The one getting most of the press is the eponymous Salvation Burger (pictured below), a dry-aged situation topped with caramelized onions and taleggio cheese, which are melted together before gracing the thick patty. The one getting more love on Instagram (rightfully so, and pictured above) is the Classic Burger, two smaller patties topped with a more of-the-people cheese, pickles, and a special sauce. Both burgers' buns are coated with beef fat and toasted. I enjoyed both, but was really blown away by the Classic Burger, perhaps because I'm starting to tire of the dry-aged, expensive take on the hamburger.
I got a look at the meat room, where butchers Jocelyn Guest and Erika Nakamura cut and grind all of Salvation Burger's beef in-house. They're sure to be busy, because the Salvation Burger, the Classic Burger, and the beef hot dog were all slaying the opening night customers, who will surely spread the word.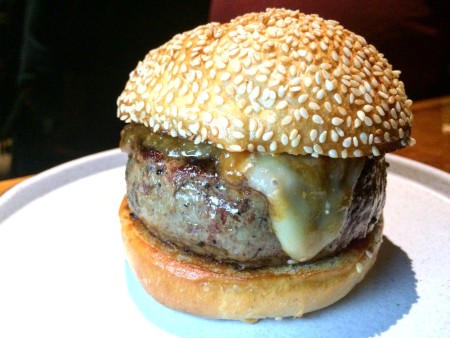 Salvation Burger is located at 230 East 51st Street in Manhattan, New York.
Sign up for Burger Weekly email updates!