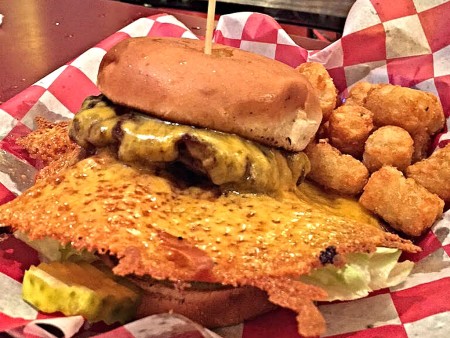 The Salt & Pepper Diner is a staple in Wrigleyville that becomes a sea of blue after a Cubs win. The diner is an old school place that will cater to any food craving that one may have. I had been told by many people that this burger was a must and I was not disappointed. The thing is, I couldn't get over how cool the ambiance of the diner was. It made me feel like I was back in the 50's and everyone was driving Cadillacs. It is a true throw back.
Burger Ordered: The Ultimate Cheesyburger
The Taste: The 100% Angus patty was smothered in cheese; there was American on the top and bottom. But the best part was that in between the two patties, there was a huge sharp cheese crisp that was easily triple the circumference of the bun. I won't lie, the burger was over-cooked, but I was swimming in cheese and I loved it.
Bringing myself back to reality here, the cheese was great, but the burger being poorly cooked took away from the experience. I enjoy a unique topping or a creative meat addition, but a burger review is based on all the ingredients and the meat wasn't the best.
The Verdict: The experience was a great one. The burger was cheesy good and the meat was decent. I would not go back to have a burger but I would go back to have an amazing experience from the '50s. Cheese on folks, cheese on.
Salt & Pepper Diner 3537 N Clark St, Chicago, IL 60657
Sign up for Burger Weekly email updates!