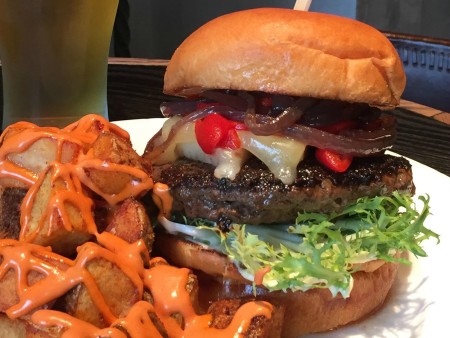 It was time to be step up my game, and Salero is a top notch restaurant on the prestigious Randolph Street in the West Loop. It is among the greats like Girl and the Goat, Blackbird, and Avec. Basically if you want to be seen in Chicago, this is the street you dine on. I went during the day so avoid the crowds and the glorious people (translation: I wouldn't have gotten in later on).
In all seriousness, the West Loop is the place to be if you are a restaurant or a new bar. It is the most popular up-and-coming area in Chicago. The people dress to the nines, spend a ton of money and truly, it has become the swanky part of Chicago. With all the glitz and glamor has come the great restaurants, and Salero is no slouch.
The Burger: Slagel Farms Cheeseburger
The Taste: The first bite of this burger was outstanding. The juices from the piquillo peppers and grilled onions were perfect on top of the cheese. Per usual, Slagel Farms' meat was did not disappoint. I will say this again, if the menu says Slagel Farms meat, just order the burger or something carnivorous. It is that good. The meat is seasoned and aged so perfectly that it makes for a tremendous burger. On top of the delicious toppings was a nice aioli that brought a welcome bit of spice to the burger. It created a different flavor profile than the salts, peppers and bitterness from the cheese.
Recently, this burger has been racking up "Best Burger in Chicago" nods, and I can see why. Not only is the burger good but the home fries were awesome. I did not leave a single potato on my plate. The red sauce you will see is that spicy aioli that I wish I could have more of. These are easily the best side to a burger I have had. I would go back to Salero just for these potatoes.
The Verdict: As you can tell, I am a strong believer in this burger. Well done, Salero. I will be back to have this burger again, maybe when I am not "That Guy" who is taking photos of his food.
Salero is located at 621 West Randolph Street in Chicago, Illinois.
Sign up for Burger Weekly email updates!