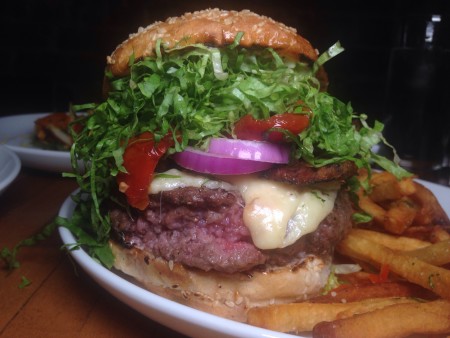 Brand new burger alert! Ruumy's Tavern just opened in midtown and it's a spot you're going to want to try. From it's romantic and mysterious downstairs bar to its Ashkenazi-inspired menu to its Gramercy Tavern alum in the kitchen, there's a lot to love at Ruumy's. They also have a burger at the center of their offerings.
Burger Ordered: Ruumy's Burger
The Taste: Topped with LTO, pancetta and cheddar cheese, this burger was a hell of an interesting journey. It was served to my friends and I rare. While I don't usually go for a fully rare burger, I'm not against it and frankly, it tasted delicious. The sear was delightful and the cheddar was delicious. We were told that the burger can be ordered at any temperature, and that it was just assumed that burger connoisseurs would want a very rare burger. I wasn't complaining, but I mention this to let you know that you don't have to worry that your burger will come out still mooing.
The Verdict: It's new! It's tasty! It's got a good vibe and a unique menu! Get on it.
Ruumy's Tavern is located at 310 West 53rd Street. 
Sign up for Burger Weekly email updates!