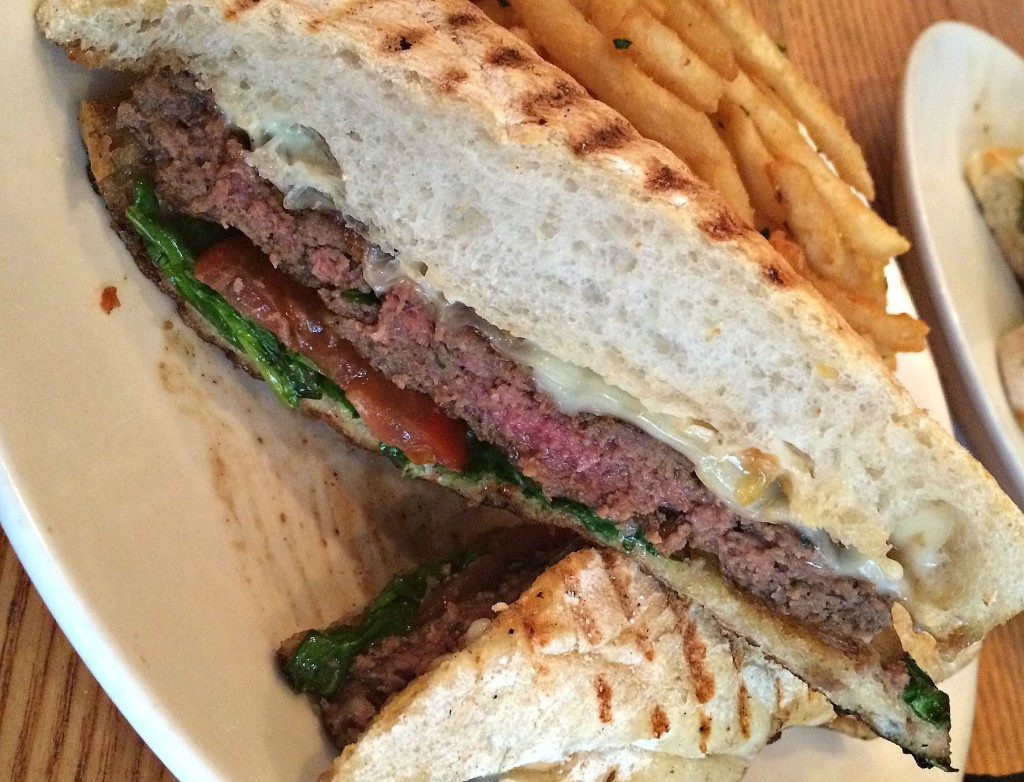 The Experience: How to speak Australian. For one thing, forget about Foster's, because at this Aussie outpost they focus on Coopers. Next, you may associate Australian burgers with beetroot and pineapple, but at Ruby's, an Australian burger joint that has been around for over a decade, the signature Bronte Burger is served on toasted ciabatta bread, and is topped with two slices of cheese, lettuce, tomato, and a sweet chili sauce.
I was guided through my experience at Ruby's by "local legend" Anthony Fairall. What makes him a local legend? In my mind, his terrific photography skills and his abilities as a dinner companion. But in the eyes of Ruby's Cafe, it is simply that he is a loyal customer who eats there a lot even though he's left the neighborhood, and as such he gets a 10% discount on his meal.
Burger Ordered: The Bronte Burger
The Taste: I've known about Ruby's since before I started Burger Weekly, and after eating it, I understand what all the fuss is about. The patty is as hearty as they come. The sweet chili sauce gives the burger a very deep, savory flavor. There are so many strong elements in this burger that even its unconventional shape and the inclusion of tomatoes couldn't throw me for a loop. I took my time alternating between bits of the burger and the scrumtrulescent truffle fries, which were subtle enough not to overwhelm the rest of the meal.
The Verdict: Due to the nature of my burger eating life thanks to Burger Weekly, it's unlikely I will be able to revisit Ruby's enough to become a local legend. But you should, because it's excellent and unique in a world of similar burgers.
Ruby's Cafe is located at 219 Mulberry Street in Manhattan, New York.
Sign up for Burger Weekly email updates!