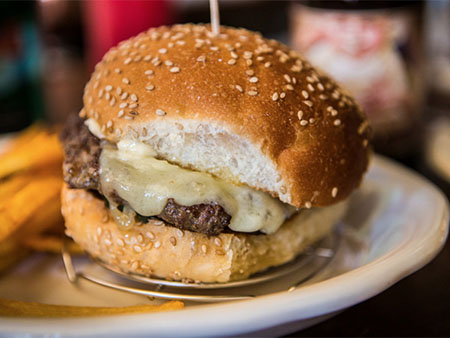 Rose's has been on my list for a long time, and like last week's adventure at Lulu & Po, was recommended to me by Chef Matthew Hyland of Emily. When I arrived at Rose's on an early Sunday afternoon, I was surprised to see that it was mostly empty. A lot of the restaurants on Flatbush Avenue were packed with lines out the door. The place looked closed from the outside, but once I entered, I was greeted by the smell of burgers on the grill.
Burger Ordered: Hamburger with French Fries and Gruyere
The Taste: The burger is as simple and straight forward as its name suggests. The modest patty rested on a sesame seed roll, covered in gruyere cheese and a delicious mayo. The bartender who served it asked if I'd be surprised to learn that this little piece of heaven was grilled up by a vegetarian (he might have said vegan, I can't remember to be honest). I was surprised, and frankly very impressed at the quality of the burger crafted by someone with no interest in such a meal, and no ability to taste test it for herself. Good on ya, Ms. Quinn.
The Verdict: Rose's has a winner of a burger. It's very simple, it makes the most out of gruyere (something that I was seeing more a few years ago and wouldn't mind experiencing a revival of), and exists in a joint, which did fill up before I left, in which the vibe was very pleasant.
Rose's is located at 295 Flatbush Avenue in Brooklyn, New York.
Sign up for Burger Weekly email updates!