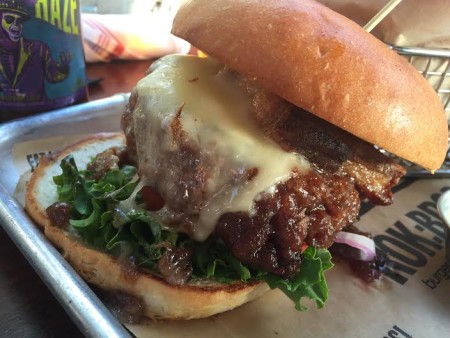 Having recently moved to South Florida, I figured it was time to try my hand at the burger options at the bottom of the Sunshine State. At the suggestion of my brother, a longtime resident, I started with ROK:BRGR in Ft. Lauderdale, which was voted "the best burger in Florida" by Business Insider. Business Insider ain't got nothin' on Burger Weekly, so I decided to see for myself, particularly once I saw that Monday nights are 10 dollar burger night (with the purchase of any beverage).
ROK:BRGR has a signature burger as well as a classic burger, but those are just two of their 14 burger options, all gourmet, all pretty creative. It was a toss up between about 4 of them, but as I begin this new chapter of my life, I felt compelled to order the South Floridian. This monstrous delicacy takes a classic patty and adds creamy brie, Duroc pork belly, red onion marmalade, and truffle aioli. Aside from getting a kick out of the burger's name, it is pretty hard for me to see something with the words "brie" and "aioli" and not get it.
Burger Ordered: The South Floridian
The Taste: The experience was divine. This was my first time ever having pork belly, and while I got an unfortunately fatty piece in the middle of the burger that was not exactly to my liking, the rest of it gave me one of those "oh THIS is why people don't keep kosher" moments. The thick cut flat patty had a nice shape that made for an easier eating experience than other round ones I've had, and despite it being not exactly medium rare as I'd ordered, it was still extremely juicy and delicious, a lovely complement to the pork. The star of this burger, however, was the red onion marmalade. It gave the burger an interesting texture, and the tasted blended oh-so perfectly with the creamy, melted brie. I just love the way brie melts on a burger!
I do wish that the truffle aioli, which I would like to bathe in, came on the burger rather than on the side. (It also came with a side of ketchup, but after a history lesson by my favorite Burgermeister, Brad Garoon, I showed restraint and refrained from "ruining" the burger.) I rounded out the truffle aioli with garlic aioli, initially intended for the thick cut sweet potato fries I ordered, but ultimately ended up on everything. I never met an aioli I didn't like.
The Verdict: Despite attempts to pace myself, I had no room left to finish my burger, especially after having a bite of my brother's Bacon Jam burger and his friend's Farmhouse burger. But I chalk that up to being immensely satisfied with my meal. Plus, the location and vibe are great, and the prices are totally reasonable. The biggest issue at this place is choosing which burger to try!
ROK:BRGR is located at 208 SW 2nd Street in Fort Lauderdale, Florida.
Sign up for Burger Weekly email updates!