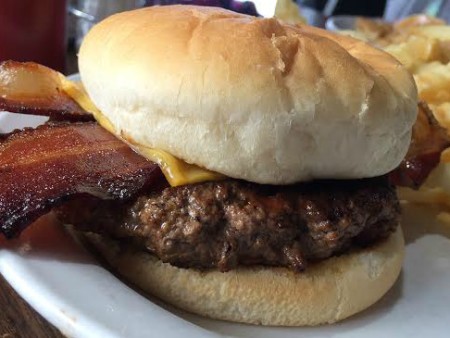 Robert's Restaurant is a small-town greasy spoon diner that does its best work during the breakfast hours. I've had breakfast there a number of times and it's always great, so eventually I knew I would have to try the burger and see what's up.
Burger Ordered: Bacon Cheeseburger
The Taste: One word describes this classic burger – comforting. It's a 1/3 pound offering with crisp bacon and American cheese, served on a plain bun. I added some ketchup for kicks, and went to town. This is a no-frills kind of burger, and Robert's knows what they've got. This is a tasty if unremarkable burger, reminiscent of something you might get at a neighbor's barbecue. And there's nothing wrong with that. The crinkle fries that came with the burger were a solid accompaniment.
The Verdict: Robert's Restaurant is a fine establishment, one I'm always happy to visit. The burger gets good marks, but to really experience the best they have to offer I'd go during breakfast time.
Robert's Restaurant is located at 216 North Lake Street in Boyne City, Michigan.
Sign up for Burger Weekly email updates!