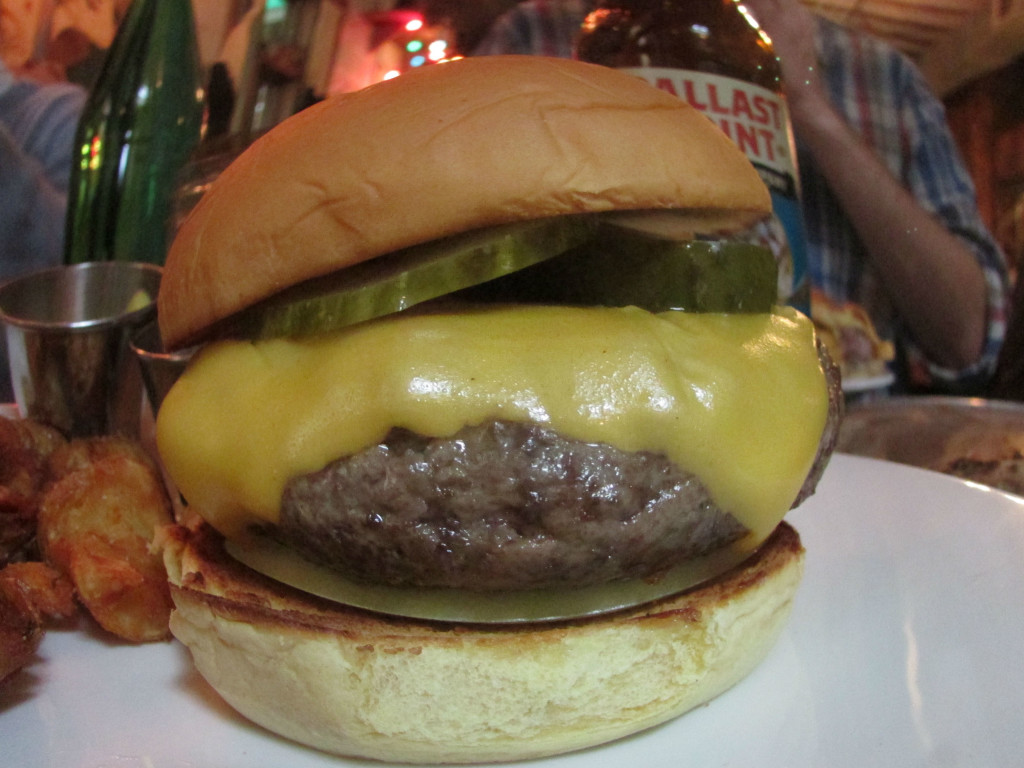 The Experience: Last year, I took a group on a tour of some of the best pizza joints that also served great burgers. We hit GG's and Emily, and both of those burgers really blew us away. There was one hiccup in the tour schedule, however; when we got to Roberta's there was no ground beef, so we had to settle for just their delicious pizza. Over a year later, I finally made my way back to Roberta's for a weekday lunch, the only time the burger is served. After putting down a beer and half of a Bee Sting pie, it was time to sample the much-talked about cheeseburger.
Burger Ordered: The Cheeseburger
The Taste: Roberta's keeps it simple, topping the burger with American cheese, pickle chips, a slice of raw white onion, and a lettuce leaf. I buried the leaf under my plate and went to town. Even though my stomach was already full of dough, cheese, pepperoni, sauce, and honey, I housed the burger in short order. The classic burger taste was exemplified by its gooey cheese and an excellent crust around the patty. The potato roll conformed to the shape of the burger in a way that I geek out over every single time. Though a little saltier than I was expecting, I still barely let the burger out of my hand for a break. The home fries that came on the side were also out of this world, crispier than you'd expect them to be.
The Verdict: Roberta's has an almost unmatched pizza reputation, but those in the know are aware that the burger here is worth a daytime trip. The East Williamsburg GBZ is strong.
Roberta's is located at 261 Moore Street in Brooklyn, New York.
Sign up for Burger Weekly email updates!