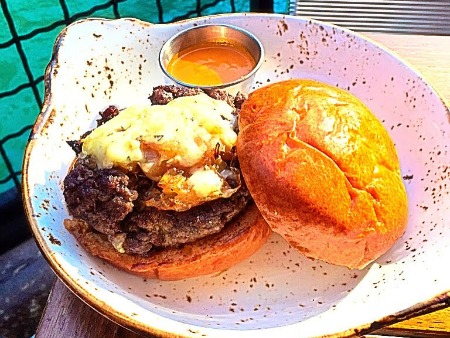 River Roast is a new, up and coming restaurant that has great dishes and an amazing patio. Located in the heart of Chicago's River North neighborhood, River Roast food is diverse, quality and leaves its patrons wanting more. It should be no surprise that the new restaurant has its competition worried. As I walked into River Roast, I immediately asked for a table on their patio which is situated on the river that wraps around the Chicago Loop. I was fortunate enough to get a table however, as I ordered I was told the burger was not available and that it was only a lunch menu. I cannot speak for everyone, but I do not have enough time during lunch to sit down and eat a burger. I work a corporate job and my boss would kill me. As I sat that pleading with the waitress to ask the chef if he would make one, the manager came over and acquiesced to my order. That is great customer service! I had been hearing about this burger for months.
The Burger: Blues Burger
The Taste: This is a no frills kind of burger. There were no fries, it was all business and it delivered. The ingredients included a prime chuck & brisket patty, caramelized onions, Dunbarton blue cheddar cheese with house made smoked ketchup on a brioche bun. River Roast knew what they were doing and it was no surprise the Blues Burger had made several food bloggers "Best New Burgers of Chicago". The meat was tender, the blue cheese was just right and the bun was perfectly soft.
The caramelized onions didn't do it for me. I like to be able to bite through a burger and not have anything fall to my chin. Don't get me wrong, I like onions but these were slippery and impossible to bite through with all the other ingredients. I am clearly nitpicking here, the burger was great but a man needs to find something wrong, there is no perfect burger, right? Haha. I enjoyed the experience, I had great service, and I had great food. It was a great way to start the weekend.
The Verdict: I feel bad for the surrounding restaurants to River Roast. I had a great experience and all I have heard is great things. I will DEFINITELY be heading back, but this time I will try and make it for lunch.
River Roast is located at 315 North Lasalle Street in Chicago, Illinois.
Sign up for Burger Weekly email updates!