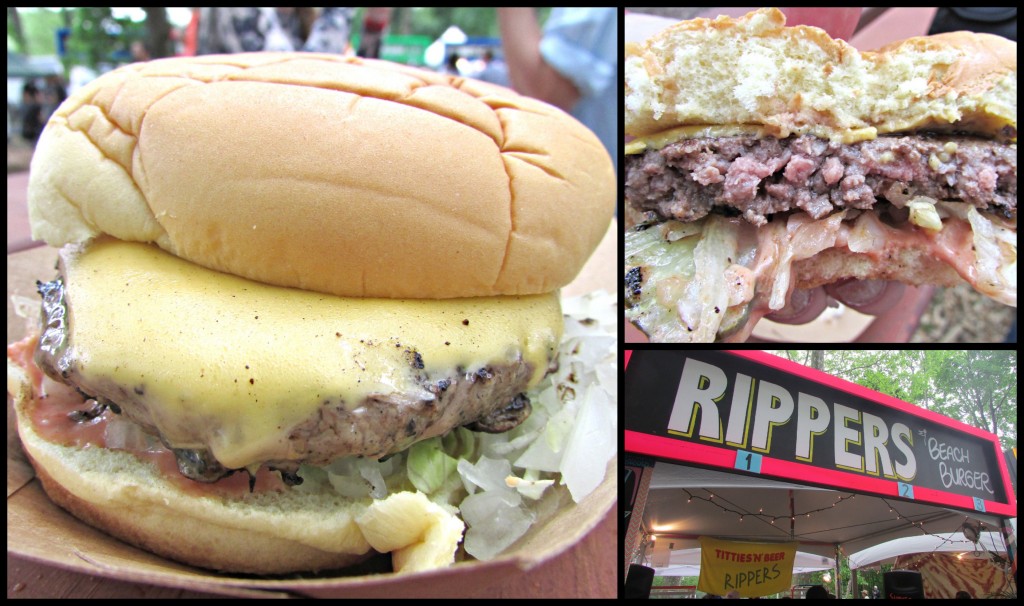 The Experience: The folks behind the Great Googa Mooga food and music festival just can't seem to catch a break. Last year their inaugural event was plagued by extreme heat and poor planning that resulted in a terrible registration process, long lines, and a lack of cell service for Instagram-loving attendees. This year the registration process went much more smoothly, the lines were manageable, and the cell service was much improved. Sadly, the final day of the festival was rained out, leaving attendees upset at missing out on the fun, and vendors in the lurch financially.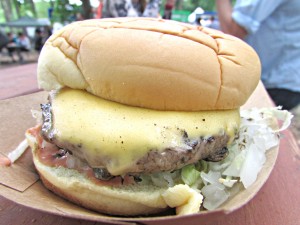 Luckily, the Burgermeisters attended on Saturday, and before the drizzly rain forced them back to Manhattan, they ate hamburgers from a whopping FOUR food vendors. One of those vendors was Rippers, an import from Rockaway Beach. The Burgermeisters had never reviewed a burger from a beach burger stand, and were excited to give Rippers a try.
Burger Ordered: The Beach Burger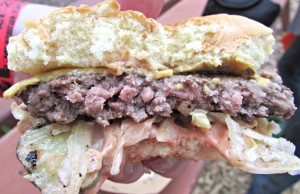 The Taste: Of the four burgers eaten that day, the Beach Burger was by far the most simple. The beef used was nothing to get excited about, and the rest of the burger was standard fare, topped with shredded lettuce (a nono as far as Burger Weekly is concerned), onion, pickle, and fry sauce. It was reminiscent of a really well-made Whopper. The bun and lettuce were both cold, cooling down the entire burger. On the plus side however, the fry sauce was delicious. It's not always easy to get a good burger at the beach, so this is certainly suited for its environment. At a giant foodfest like GoogaMooga however, it was easily overshadowed.
The Verdict: On Rockaway beach this will certainly satisfy your warm-day burger cravings. It is a fine burger in its element, and that's really all that matters.
Rippers is located at Boardwalk & Beach 86th Street on Rockaway Beach in Far Rockaway, Queens, New York.