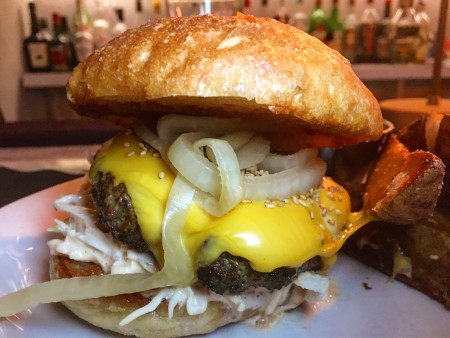 Williamsburg, it's been too long since I've seen you! But I went back last week on an unseasonably warm evening to try the burger at RIDER. Design-wise, RIDER is pretty much what you'd imagine from a part of the neighborhood (North of Grand, West of Bedford) that has gentrified the hardest. It is a very sleek bistro that serves as a nice oasis from the nearby American Apparel and Urban Outfitters. The menu is filled all kinds of fun, Brooklyn-ie items with fun twists that should help the restaurant stand out in the memories and Instagram feeds of New York eaters.Burger Ordered: Cheeseburger
The Taste: RIDER's cheeseburger is topped with American cheese, cabbage, onion and Russian dressing. The bun is sesame seed-less, in favor of seeds sprinkled on the American cheese. I found myself really enjoying this twist. I didn't end up with seeds all over my plate or stuck in my teeth, because they were embedded so deeply in the burger. That said, there was still a nice crunch and sesame flavor. Speaking of flavor, damn this burger is filled with it. Between the dressing and the juicy patty, I was a napkin fiend throughout my time at RIDER. And I can't wrap this review up without a shout to the fries, which are pretty much a whole potato, cut into a few massive pieces, cooked 3 times into crispy, carby delights.
The Verdict: This is a seriously big burger meal, so you'll leave feeling very satisfied (and VERY full if you don't have restraint). While you're there, try the fennel & lemon doughnuts and a Hitachino White. What a great combo,
RIDER is located at 80 North 6th Street in Brooklyn, New York.
Sign up for Burger Weekly email updates!