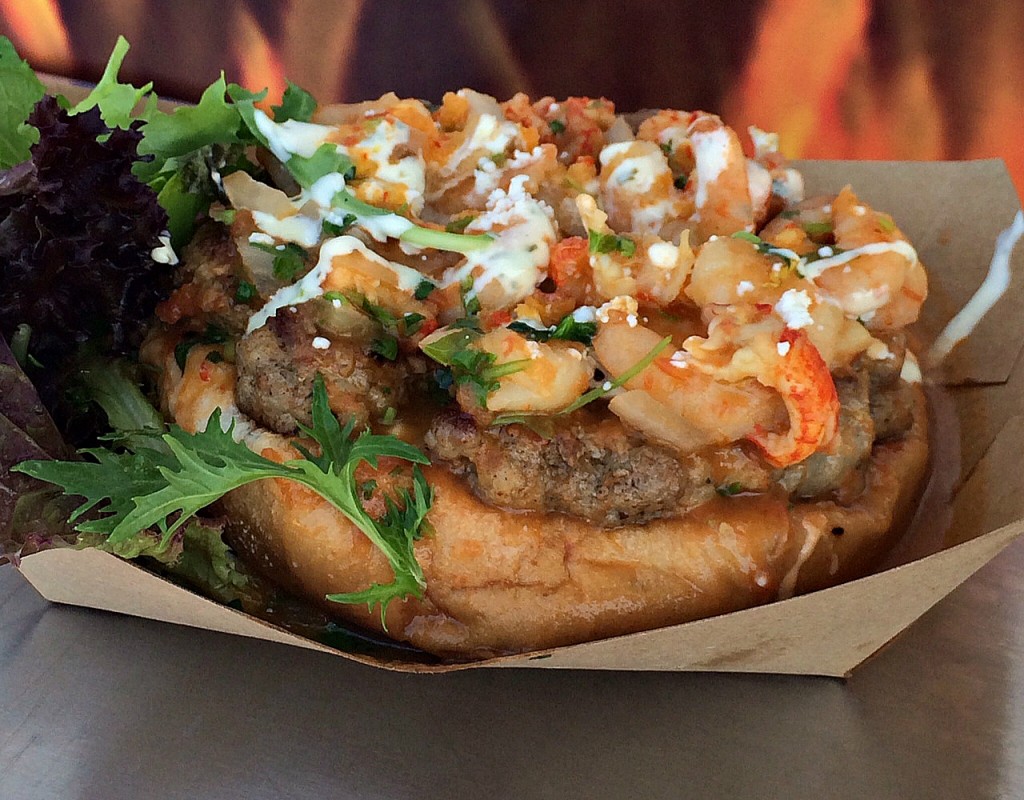 The Experience: Reigns food truck has been rolling through the streets of Houston for about eight months. It's a family-run operation headed up by Chef and owner LaVar and his engaging business partner Krystal. Stepping up to the window you are instantly greeted with a welcoming & enthusiastic smile. I could tell this team was passionate not only about their food and business, but servicing their customers as well. While multitasking within the confines of the truck, Chef LaVar was talking us through the unique and diverse menu options, seasoned with a bit of his culinary wit and charm.
Burger Ordered: Swamp Thing
The Taste: The Swamp Thing! Where to begin? The thick patty is a mixture of coarsely ground alligator and wild bore. You read it right folks! No beef in this burger today. We are talking meaty chunks of fresh alligator combined with tasty wild boar, all seasoned and grilled to perfection. Who would have thought that this combination works? Well it does, amazingly so. This is a lean, juicy patty served open faced. It's topped with an enormous helping of fusion-inspired etouffee with fresh crawfish, baby shrimp, and flecks of cilantro throughout. This cacophony of tastes dances in your mouth with each bite taken. The Swamp Thing must be devoured with a fork & knife as the toasted bun, fresh from Pandora Bakery, soaks up all the swampy goodness of that incredible etouffee. Reigns rocked this burger! It's well worth the $14.00. The Swamp Thing is a must-try for anyone wanting something a bit off the traditional burger grid.
The Verdict: Go to Reigns hungry because the Swamp Thing and all other fare are big in size and flavor. Reigns is one truck putting out unique top-notch dishes that are worthy of many more visits. Their menu is well thought out, as there is something for everyone. They even offer a straight up burger, the Texas Classic, in addition to many other tasty offerings. Chef LaVar tells it best, "Everything is mixed with love."
Follow Reigns on Twitter @ReignsFoodTruck.