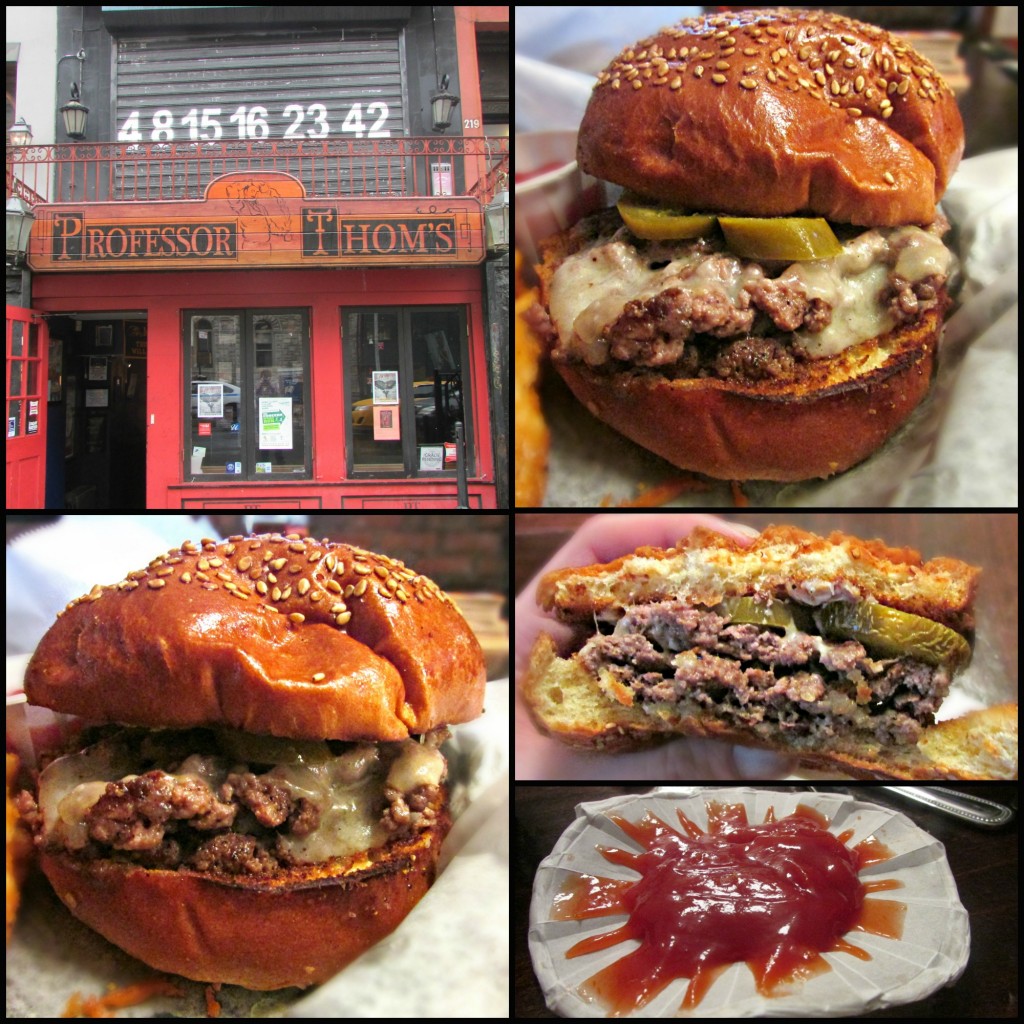 The Experience: If you have not yet entered the #GuessTheBurger contest that we are conducting in conjunction with Burger Maker, then you are missing out on a lot of fun, as well as the possibility of winning free burgers from great NYC burger joints. To get photos for the contest, I've been spending the last few weeks visiting places that serve hamburgers made out of Burger Maker beef. One such place was Professor Thom's, a home for any fan of Boston sports, Michigan football, Game of Thrones, or nostalgia for LOST.
Burger Ordered: Triple Blimpy Burger
The Taste: To hammer home their love for all things Ann Arbor, Professor Thom's serves their version of the Blimpy Burger, a stack of 1.4 ounce patties on a sesame seed bun, with toppings of your choosing. I went with Swiss cheese and jalapeños, because I was about to embark on a four-hour car ride to a wedding with a group of women and I just wanted to risk it. Though I'd been to Professor Thom's for nachos before and quite enjoyed them. I didn't go into Professor Thom's with high hopes for the burgers simply because I'd never heard a word about them from anyone.
I am pleased to announce that the burger was quite good. The buttery, toasted bun perfectly complimented the three small patties. The cheese and jalapeños added distinct flavors without masking the taste of the Burger Maker beef. The waffle fries were also tasty, and offered me an opportunity to make a ketchup plate (pictured above), one of my favorite life hacks.
The Verdict: If you're going specifically for the burger, avoid ridiculously large crowds by making sure you choose a day when the University of Michigan isn't playing an important game. You'll enjoy your meal in relative peace, and get a taste of the burger that Wolverines enjoyed for decades.
Professor Thom's is located at 219 2nd Avenue, Manhattan, New York.