Burgers Ordered: BBQ Burger
The Experience: Primebar fancies itself as Dallas' answer to Chicago-style ale houses.  It boasts a distinctively
urban interior featuring recycled wood, tiled floors, salvaged lighting, over-sized leather booths and plasma televisions. As for the food, they serve contemporary American fare, specifically (for Burger Weekly's purposes) two-handed sandwiches.
Being that Primebar is trying to channel the spirit of Chicago in Dallas, we sent our Chicago-raised, Dallas-residing Burgermeister Lauren to check out their burger offerings.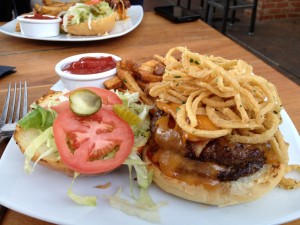 The Taste: Lauren ordered the BBQ Burger, topped with cheddar, smoked bacon, barbecue sauce, fried onion strings, lettuce, tomato, and pickles on a brioche bun. Lauren enjoyed the burger but, being an off-the-grill-no-frills burger purist, the Chicago transplant didn't find this to be the best burger she's had in Dallas.
Lauren said that the bacon and cheese made the burger far too salty. Because it was a double pattied burger, the meat wasn't as thick and juicy as Lauren is accustomed to. Though she didn't comment much on the veggies or onion strings, she said the better burgers she's had in Dallas were those in which the meat didn't hide underneath the toppings.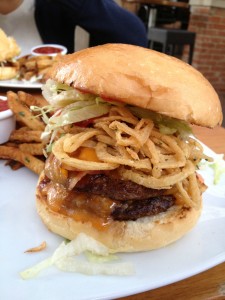 The Verdict: A tactical failing for our Burgermeister's tastes, Primebar offers a meal better suited to those who enjoy their toppings as much as their beef. Your mileage may vary, but the BBQ Burger at Primebar didn't make the list of Burger Weekly must-haves.
Primebar is located at 2520 Cedar Springs Road in Dallas, Texas.