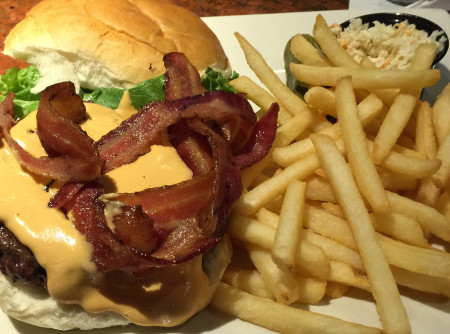 The Experience: While running around, doing some last minute Christmas shopping, I happened to drive by the Pour House on Shrewsbury Avenue in Tinton Falls, NJ. I quickly made a U-turn and saddled up to the bar to try one of their burgers that I had heard much about.  The burgers are actually cooked on a grill right behind the bar, so it was cool to watch the chef prep my future conquest as I watched.
Burger Ordered: The Bacon Cheeseburger Platter
The Taste: This was a big, juicy 10 oz. burger served on a kaiser roll with lettuce, tomato, and red onion. The burger had a nice charbroiled taste and was cooked perfectly. I opted for the homemade cheddar sauce and immediately realized what a great decision this was. The sauce added great taste to the burger. Although nothing spectacular, the bacon was crispy. As far as I'm concerned, unless it's burnt you can never complain about bacon. I'm generally not a huge fan of a kaiser roll, but it did not take away from the overall experience and it seemed that this was a perfect fit for this burger. The fries on the side were your basic French fry, but the whole dill pickle was a nice touch.
The Verdict: I definitely enjoyed this burger and would go back again. I would try a burger with one of the other cheese offerings next time just to see if the cheddar sauce made this burger.
The Pour House is located at 640 Shrewsbury Avenue in Tinton Falls, New Jersey.
For more of Michael's burger adventures, check out burgerguysnyc on Instagram.
Sign up for Burger Weekly email updates!