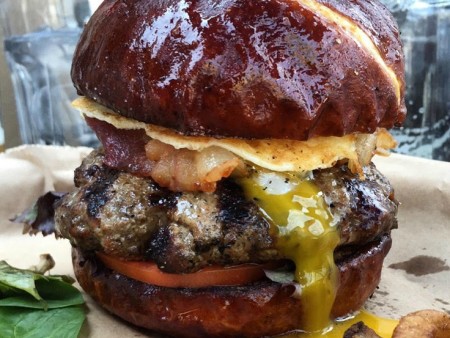 I have stated many times before that restaurants in the West Loop of Chicago are the best in the city. The scene is crazy; beautiful people are everywhere, and there's a great variety and phenomenal energy. It should be no surprise to anyone that Porkchop is another great restaurant and funny enough, they actually have more than pork. 
When I tried their burger, it was sunny and warm, which this year has been hard to come by in Chicago. I was in a great mood and the burger made me even happier. However, before we get to the burger, the other perks of this restaurant are: outdoor seating, a vast whiskey and beer list, and a great staff. The waiters are all very knowledgeable, positive and do their best to make sure the patron has a good experience, which I think is crucial. 
The Burger: House Burger
The Taste:  It should go without saying that a restaurant with a meat in their name has out-of-this-world meat. The first thing I tasted when I bit into the burger was pure, clean and well-seasoned meat. The amount of flavor in the patty was something I was shocked to discover. It is some of the best beef I have tasted in a while. Normally, there is another element that overtakes the patty's taste, but at Porkchop the meat speaks for itself. Moreover, the bacon, egg, onion, and tomato were all complimentary to the delicious, sponge-like pretzel bun.
Some people believe that an egg only provides additional wetness and a cause for the bun to fall apart. I would disagree with that opinion in this instance. Porkchop did a good job selecting their bun, as it absorbed the juices and egg while still adding flavor.
The Verdict:  I need to go to more places like this. Porkchop knocked their burger out of the park. While the burger was necessarily simple, it did not need much to make an impression. Although Burger Weekly rules state that I cannot review this burger again, I will certainly be back!
[Editor's Note: If Bad Guy Burgers wants to review this burger again, he can visit one of the five other Porkchop locations in Hyde Park, the South Loop, the Central Loop, Glenwood, or at Navy Pier.]
Porkchop is located at 941 West Randolph Street in Chicago Illinois.
Sign up for Burger Weekly email updates!