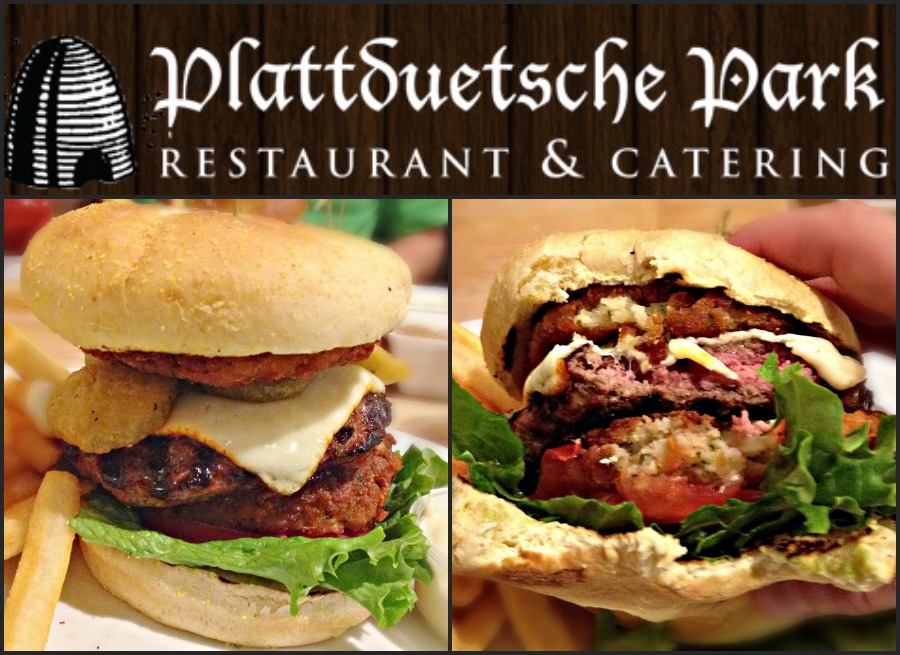 The Experience: Every year my wife's aunt and uncle throw an amazing Oktoberfest Party and their gorgeous home up in Greenwood Lake, NY. My family and I always have a fantastic time and over the years I have developed quite the affinity for German food. As a result, I was searching for a local place to delve into some of this fine cuisine when I happened upon Plattduetsche Park. Plattduetsche is a German beer hall, a bar, and a restaurant. For my Burger Adventure, I chose to sit in the restaurant section. At first, I fully intended on sampling either their sauerbraten or wiener schnitzel, but then I saw their burger menu.
Burger Ordered: Mad Bavarian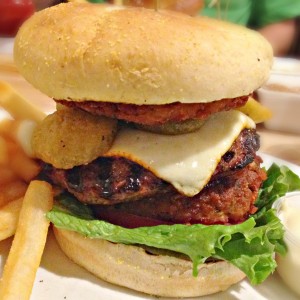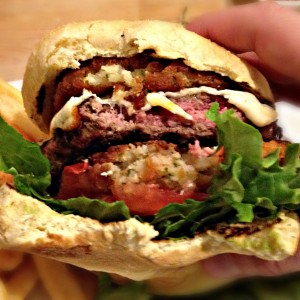 The Taste: I started the meal off with an order of their Little Bavarians, mini pretzel slider rolls filled with sliced brats, Swiss cheese & bacon. The pretzel rolls were absolutely perfect, so soft and tasty with just the right amount of salt. The brats were delicious as was the cheese and bacon.
I then moved on to the main event, the Mad Bavarian, built with lettuce, tomato, potato pancakes, fried pickles, and Munster cheese. The description of this burger and the photo provided on the menu had me worrying that I was setting myself up for disappointment. However, when my friendly and knowledgeable server swung by with my plate, my mouth instantly began to water. This thing was a visual masterpiece. I lifted my burger and took a monster bite; it was delicious. The pickles were perfectly fried as were the delectable potato pancakes. The Munster was all melty goodness and the burger patty itself delivered as well. It was cooked to my medium rare specification and the bun held up like a champ.
The Mad Bavarian came with a side of yummy fries and I ordered their creamy horseradish dipping sauce to compliment them. My only disappointment with this meal was that I was just too full to taste their apple strudel.
The Verdict: Great atmosphere, really good service, and absolutely delicious food. I cannot wait to hit up this place again and check out their more traditional offerings, including that apple strudel.
Plattduetsche Park Restaurant is located at 1132 Hempstead Turnpike Franklin Square, New York.