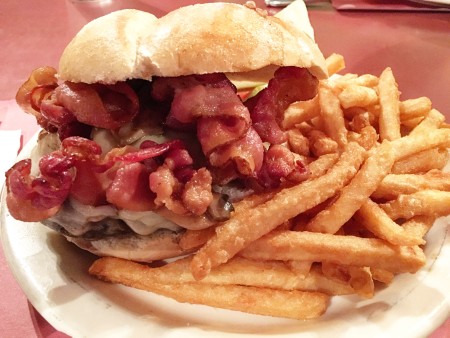 The Experience: I'm always in search of the quintessential "neighborhood bar," regardless of whether or not I'm from that specific neighborhood. I try to seek out spots that come close to the epitome of a hangout joint; a bar or pub that has a familiar clientele and workers that give off the vibe that they've been there for years. It's even better if the younger workers are more than likely nieces, nephews or even son or daughter of the owner. I've always felt that places like those are the secret establishments that never get much attention in the press or foodie blogs because they are hidden away in neighborhoods without many outsiders to come and patronize their business.
And so with that in mind I went to a part of the Bronx that can only be considered a true working middle class suburban neighborhood. So far out that it's closer to its neighboring cousin, Queens, than its big brother, Manhattan. I went to Throggs Neck. As for what you'll see when you get there, you'll be surprised. So many people, including native New Yorkers, are quick to assume that the Bronx is not worth traveling to for a myriad of reasons. Granted, it has what seems to be a bad reputation. And while some ideas about the borough are warranted, I always remind people that Brooklyn was considered incredibly unsafe for decades until the fortuitous moment when it was deemed the Hipster Capital of the World seemingly overnight.
And so T-Neck, referred to lovingly that way by its inhabitants, is one of the more quaint parts of the Bronx you could ever imagine. Houses are legion here. Not tall buildings. Backyards, local mom & pop stores litter the streets. No franchise coffee shops or restaurants. There's a sense of community when you walk around. It can be a bit unnerving for some to be in New York and yet feel like they're in a place that resembles the fictional Mayberry. And while there are other parts of New York State that mirror what you see in Throggs Neck, it's always the fact that no one expects to see what they see there that throws them off balance.
All boroughs in NYC have their rough patches. Sometimes I think the Bronx gets way too vitriol thrown its way. And so with that all said, I walked into PJ Brady's and I got exactly what I was looking for, "a neighborhood bar." If I had been feeling extra friendly (rather than just extra hungry) the night I went, I would have asked the staff how many of them were related because that's the type of place that it felt like (and probably is). My dreams had come true!
Before walking into the dining area there was a small crowd gathered out in front. Boisterous enough that you knew they had downed a few beers but not loud to the point that you felt unsafe or annoyed at any point. The space was empty with only a few patrons inside. My group sat in a booth, and as I looked around I could tell that everyone who was downing their Sam Adams beers and burgers had probably been here more than once before. I smiled as I cracked open their battered and extremely old menu. So far so good.
Burger Ordered: Brady Burger
The Taste:  It wasn't until it was too late had I realized that I hadn't specified to the waitress that I had wanted to have my burger cooked medium rare, my preferred way of nom'ing on any burger. And so, when the waitress came back I did myself the disservice of not asking to have the cook re-do it. Nothing turns me off more than an ungrateful or difficult customer. While I had every single right to ask for my burger to be done again, I took the hit and shrugged it off. I keep telling myself that not only do I need to try new foods but I also need to experience familiar foods in different ways. Why limit my ever growing foodie knowledge to the same old thing?
The first thing I noticed before I took a bite was that the beef patty seemed smaller in size because of how much bacon was mounted on top of it. Now don't get me wrong, I'm not complaining about too much bacon. Why would I do that? I'm not a glutton for pain. But I also didn't order a BLT. And considering that it came with bacon, lettuce, tomatoes, cheese and mushrooms it sure tasted more like that than a traditional burger.
I didn't mind too much that the burger was cooked medium well, and going forward I'll definitely be more open to that option. The roll that the burger was in between was a bit too rough. I would have preferred a classic hamburger bun, or another softer option. What absolutely stood out from the whole experience was that mountain of bacon. It wasn't anything revelatory, but with so much of it on my burger I was really happy that at the very least it was super tasty. The fries that came along for the ride were also pretty great, too. Crispy and delicious.
The Verdict: This was not the greatest burger, though not the worst. It was serviceable at best. The wings here are fabulous, though. So I'd say that if you go to PJ Brady's you're better off ordering those with ice cold beer rather than a burger.
PJ Brady's is located at 3201 Philip Avenue in the Bronx, New York.
Follow the Hungry Dominican on Instagram.
Sign up for Burger Weekly email updates!