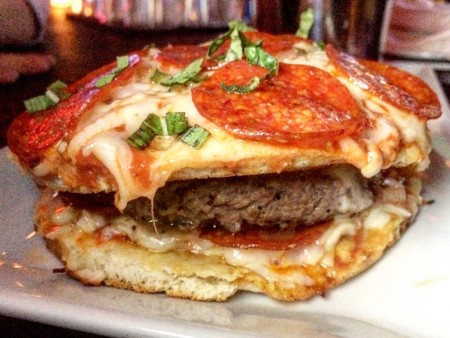 There was a time in America when people were very invested in creating Frankenfoods (strange combinations of two otherwise unrelated food items). Pizza burgers were a part of that movement, as was the Ramen Burger, the Krispy Kreme Burger, and other wacky concoctions. In the last couple of years, the craze seemed to have died down, perhaps in favor of ridiculous Cronenburgers. But this month, I saw the return of the Pizza Burger to multiple restaurants in New York City, and felt it was my duty to tell you about them.
Above you see the Pizza Burger from the Grayson. It is the most literal interpretation of the Frankenfood that I have ever seen, let alone eaten. The Grayson takes their standard patty, stuffs it with mozzarella cheese and sauce, then sandwiches it between two small pepperoni pizzas. To call this burger unwieldy would be an understatement. After trying my hand at palming it, I conceded to eating it with a fork and knife. I need to reiterate that these are full-on small pizzas that act as the bun for this burger. They aren't artisan pies by any stretch, but I was shocked that they didn't overwhelm the tasty patty. And let's be real here; you're visiting the Grayson and getting this off-menu burger (only available in March) for the Instagram photo.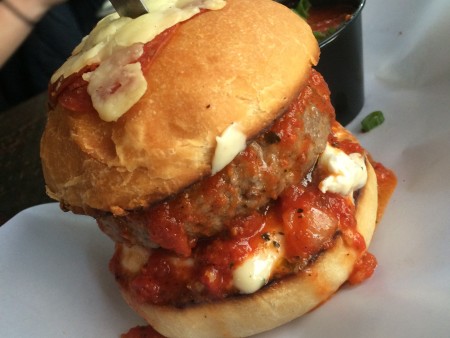 The Baroness Bar is also serving up a Pizza Burger in March only. The Hot Buns Club Sicilian Burger also stuffs their patty, but at this Queens bar they're doing it with mozzarella and pepperoni. The patty is rolled in Italian seasoning and topped with marinara sauce, burrata and garlic herb pesto. The house-baked bun is shaped like a traditional burger bun, but made of pizza dough and topped with a bit of parmesan and pepperoni. It comes with a side of sauce, and I found that I enjoyed it best after it had fallen apart and I could dip each element in said sauce to my liking.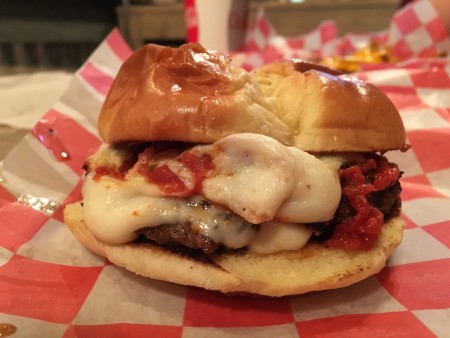 Those who regularly listen to my podcast Like, Bite & Share would have recently heard me criticize the Pizza Burger alongside my friend and co-host Rev Ciancio. But Rev recently told me about the Sinatra Burger at Boardwalk in Hoboken, a toned-down version of the Pizza Burger. Served on their regular menu, the Sinatra is topped with fresh basil, as well as mozzarella and marinara sauce from neighborhood gem Vito's Deli. The Sinatra changed his mind about Pizza Burgers, and after listening to him talk about it, I almost felt as though I had eaten it as well.
After posting a couple of these Pizza Burger photos to Instagram, I was tipped off that even a place that holds pizza and burgers to a sacred standard like Emily has experimented with a Pizza Burger. So get off your patoot and try some of these burgers, because a few of them will be gone forever soon.
Sign up for Burger Weekly email updates!