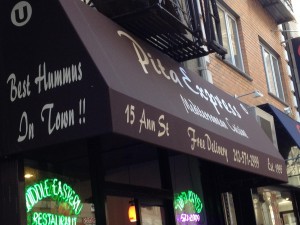 Hamburger like you've never had it before… unless you're Middle Eastern.
Burgers Ordered: Ben – The Beef Burger Sandwich
The Experience: Ben had not had the pleasure (his words, not the Burgermeisters') of enjoying a little burger goodness since my last Burger Adventure at Talia's. A series of months is obviously too long to go without a burger fix.  Ben met Brad at Pita Express for a workday lunch on a whim, and with the Burgermeister by his side Ben was inspired to finally get a burger at yet another kosher place. He was expecting a typical burger on a bun, but when his burger arrived he initially thought the restaurant had screwed up his order.  This would not have surprised him, as it took the fine folks at Pita Express forever to get out an order for two people with no one waiting in line (though to be fair, it was clear that the majority of the staff was having their lunch break and were eating at the tables near Ben and Brad). What was placed before Ben was a pita, greens, tahina and something in the center that appeared to be a burger… maybe.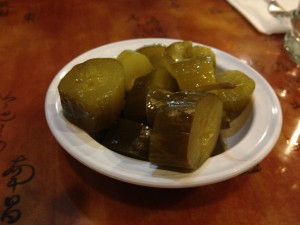 A small bowl of delicious pickles can only stave off hunger for so long.
Th Taste: Ben began to eat and when he first bit into the burger, he was sure that he was actually eating a falafel patty and initially got really irritated. But when he opened the pita and looked closer it became apparent that it was actually a nice chunk of meat he had sunk his teeth into. What threw him off was that the burger was spiced exactly like a falafel ball, to the point that it took on the green color of a falafel.
As he ate more he found himself enjoying that falafel-esque flavor, which was not as meaty as a typical burger but had a nice array of spices.  He also found that the tahina and pita complimented the spices nicely. The burger was nicely cooked and he ate it with speed, largely because Burgermeister Brad had to run back to the office for work. Brad wasn't having burgers on this day, as his allowed red meat intake had already been consumed. However, he took a bite of Ben's meal.  It reminded him of the burgers his Bubby (Yiddish for grandmother) used to make when he was a child.  He loved them because she made them, not because of the taste.  It certainly didn't taste like anything a Little Meister would expect when biting into a hamburger.
The Verdict: Although he didn't think this would fit the palette of every burger lover, Ben rather enjoyed his burger from Pita Express. As an honorary kosher commentator for Burger Weekly, he felt comfortable giving it a recommendation to his fellow kosher burger enthusiasts.
Pita Express is located at 15 Ann Street between Nassau Street & Broadway.