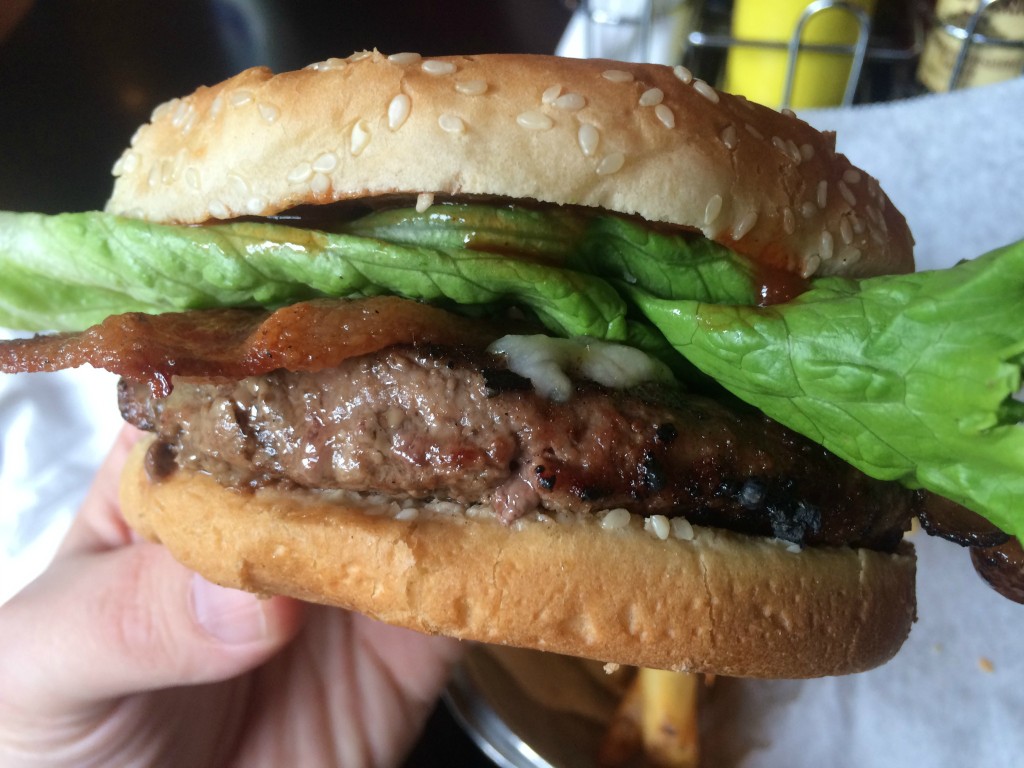 The Experience: Pierson's is a bit of an anomaly, as it exists on the property of Boyne Mountain Resort, but is not owned or operated by the resort. For a BOYNE employee like me that actually makes Pierson's an attractive lunch option, because it at least FEELS like I'm leaving work, even if I'm still on property.
Burger Ordered: Avalanche Burger
The Taste: This is an eight ounce char grilled Black Angus burger, served with lettuce, tomato, and onion. I added bacon, pepper jack cheese, and BBQ sauce (all for 99 cents each, which I find a bit excessive), but if I'm going for a burger I'm going to really go for it ya know? Luckily, my misgivings about the price of my added accoutrement fled my mind when I bit into the burger. It was cooked a nice medium rare, and the Black Angus definitely tasted like it was fresh not frozen. The bacon was a nice addition, and I generally love all kinds of pepper jack cheese and BBQ sauce so this all came together quite nicely. The sesame seed bun did a decent job holding the burger together, but it was definitely hanging on by a thread by the end. The French fries that came for another extra $2 were pretty good, but the burger is the star here.
The Verdict: This is no doubt an excellent burger. Though the price tag is a bit high that's to be expected at a ski/golf resort, so while it's not a place I'll be going frequently, it will definitely be worth going back to.
Pierson's Grille & Spirits is located at 1 Boyne Mountain Road in Boyne Falls, Michigan.
Sign up for Burger Weekly email updates!