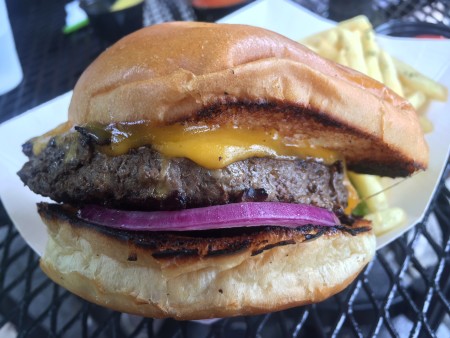 After May 1st every year, when the sun is out and the temperature is over 65 degrees, and it's not raining, Pier i Cafe is open. This outdoor eating space and grill on the Hudson River is a popular spot for west-siders and their guests. That means there are a lot of babies there at all times, so be ready for that if you want a nice riverside respite. They also have a burger. So when I was there working on Too Old To Date last weekend, I decided I needed to know if the food matched the view. 
Burger Ordered: Pier i Burger
The Taste: Topped with LTO on a brioche roll,  this burger's quality sits almost entirely on the flavor of its optional American cheese. Without it, it wouldn't be an offensively bad burger, but it would be pretty boring, and similar to something you could make at home. But something about that melted cheese caught my attention. That said, because relish packets were adjacent I did find myself dressing the burger with relish, which is generally the sign of a boring burger.
The Verdict: You're going to go to Pier i Cafe for the pleasure of sitting by the river. So get the burger if you're so inclined, but don't let that be the reason you visit this space.
Pier i Cafe is located at West 70th Street in Riverside Park.
Sign up for Burger Weekly email updates!