The Experience: In my review of Maialino, I spoke about the merits of Time Out New York's Battle of the Burger, held back in August. Maialino was the winner at the actual event, and their Late Night Burger was indeed spectacular. But the Battle of the Burger also helped to spread knowledge of good burgers in other ways, namely in their top 10 lists featuring critics picks and fan favorites. The fan favorites skewed more toward a fast-food style burger, and what caught my eye was one spot I had never visited.
Indeed, my desire to have eaten every burger that New Yorkers deemed excellent drove me to Petey's Burger. There are locations in both Astoria and Long Island City, and my desire to eat here inspired me to eat at burger joints in Queens all through November. The locals love this place, so I gathered Burgermeister Simon as per usual and trekked over the Queensboro Bridge to find out the deal.
Burgers Ordered: The Double Cheese and the Classic Hamburger.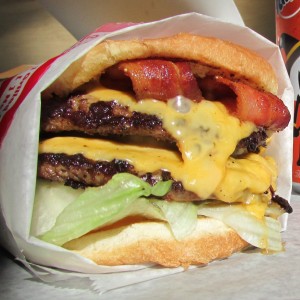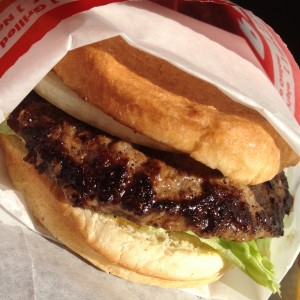 The Taste
: Simon's hamburger had that classic fast food burger flavor. I want to make it clear that the classic fast food burger flavor is not the Styrofoam and E. coli combination you get at the mega chains, but rather the kind you're more likely to find at
Five Guys
or Steak N Shake. It came with a full slice of onion, which was a bit too much. A little bit of ketchup gave it that extra bit of flavor he desired. His fries were greasy and satisfying.
The Double Cheese needed no extra flavor. Topped with Russian dressing, this thing was messy as hell. It was definitely tasty, and I immediately agreed with Simon about its classic burger flavor. The bun was in ruins by the time I was done. The Double Cheese also came with far too large a slice of onion, but once that was removed I was pretty dern satisfied. I ordered a side of California fries. They were more than abundant, totally delicious, and so greasy that I had to stop eating them halfway through for fear of heart failure.
The Verdict: Both of us agreed that if we were ever back in LIC (the location we chose for this Burger Adventure) and in the mood for a burger, we could do a lot worse than Petey's. It's not going to top any Burger Weekly lists, but it's a solid fast food go-to.
Petey's Burger is located at 46-46 Vernon Blvd in Queens, New York.