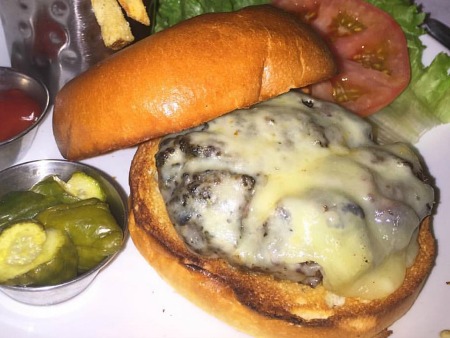 A three minute walk from Penn Station is the key to a convenient brunch in Manhattan. Coming from Long Island, we couldn't ask for a more simple excursion to the Big Apple. Located directly across from the 124-year-old Church of St. Francis of Assisi, the entrance is hard to miss. Pennsylvania 6 boasts a wide floor plan, half-overhanging second level, and contemporary decor. The sparkling white bar top, red leather seating, and large TV screens make for a stylish hangout spot if you only have time for a drink or two.
Burger Ordered: Penn6 Burger
The Taste: Better than average. They say patience is a virtue. Aged beef and aged cheddar are a testament to patiently waiting until the timing is right. It was a larger burger than offered by most brunch spots. Not to mention everything tastes great on a toasted brioche bun! The burger was a success but the real MVP were the hand-cut fries. They were exceptional.
The Verdict: With the current trend of bottomless brunch locations nestling their way into every spot they can find in New York City, it is hard to separate their qualities in our minds. Penn6's sleek design and attention to detail must be noted. The staff was friendly, and helpful in throwing a surprise brunch for our friend Ryan. Pennsylvania 6 has the taste and the tools necessary for a long existence in midtown Manhattan.
Pennsylvania 6 is located at 132 West 31st Street in Manhattan, New York.
Follow @Tasting_LongIsland on Instagram for more hidden gems on Long Island and the greater New York City area! #TastingLongisland #GetTasted
Sign up for Burger Weekly email updates!