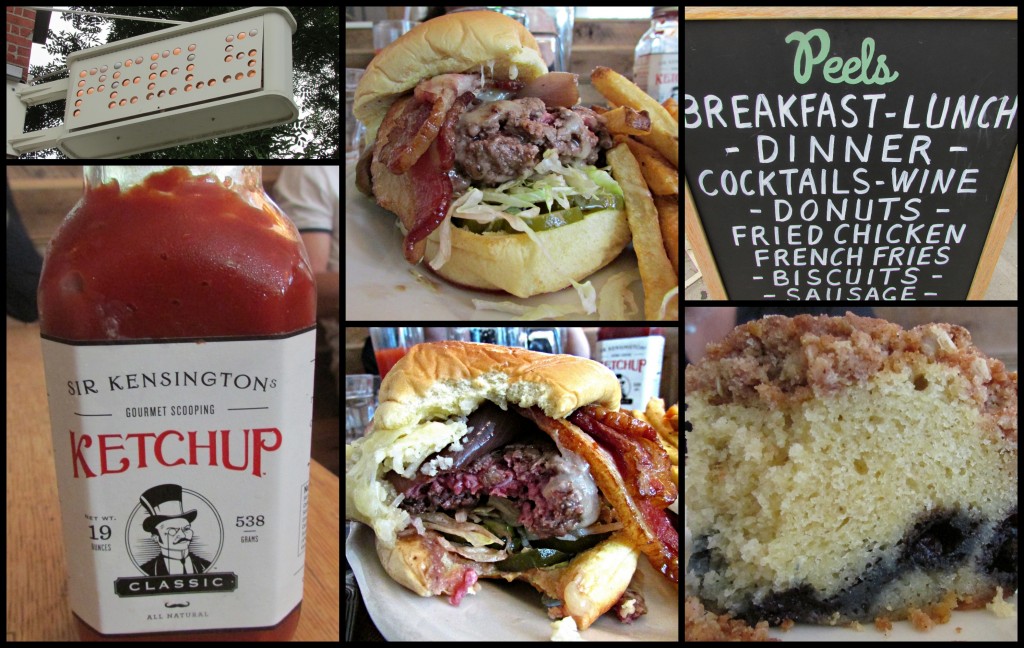 The Experience: At Burger Weekly, we decide where to dine from week to week in a few different ways, but the most prominent is when an outpouring of New Yorkers insists that a joint has the best burger in the city. With Time Out New York holding it's Battle of the Burger this August, we were able to see very clearly what a large swath of NYC burger enthusiasts thought was the top patty. Though we've been to most of the restaurants in contention, there were six that remained untouched by Burger Weekly. That didn't sit well, so I decided to try Peels, one of those yet-to-be-tried-and-much-lauded burger houses.
Burger Ordered: The Bacon Cheeseburger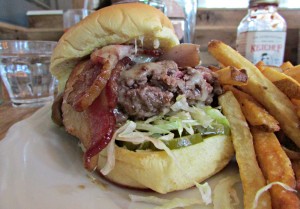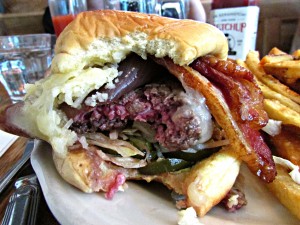 The Taste
: The first thing I noticed, just upon looking at the burger, was that it was going to be a messy trial. The bacon and grilled onions were all over the place, the bun was sliding off, and the patty was barely holding itself together. After my first bite I realized that all of the cheese was on one half of the burger. A few more bites and the structural integrity of the hamburger completely collapsed. The potato bun, while keeping its form, did nothing to stop the mess from spilling all over my plate.
That said, my frustration with the structural nightmare of the burger was tempered by the good flavors coming from many elements of the meal. The bacon was slicked thick and quite tasty. The pickles were delicious, though alongside the lettuce they were a little cold for this burger. The onions were exquisite; the ones that were left on my plate after I'd finished the burger were mixed in with my french fries and fry sauce for a fantastic meal-ending treat. The patty itself didn't have much flavor, though it was cooked medium rare as ordered, and while the cheese was quite tasty, it was all clumped together in one part of the burger, as previously mentioned.
The meal was capped off with blueberry cake, which was outstanding. I'm normally wary of dessert at restaurants that aren't explicitly known for it, but this slice of cake was the perfect cap to this meal.
The Verdict: A little more care in assembly would go a very long way in making this a notable New York hamburger, but as it is the meal was a bit of an exercise is frustration.
Peels is located at 325 Bowery in Manhattan, New York.