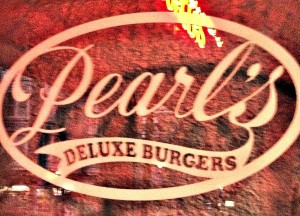 Because Burgers Don't Have to Cost You
The Experience: When searching for the perfect burger in San Francisco, Pearl's came up number one on Yelp, so we thought "can all these Yelpers be wrong?" There are two locations of Pearl's Burgers within a mile of each other and we decided to go to the smaller location… And small it is.  The Post St. location is not where one wants to dine for ambiance. It's a bit cramped with little to no artwork and a small television in the corner. Not a date night burger joint.
Burgers Ordered: Teriyaki Burger & Bula Buffalo Burger.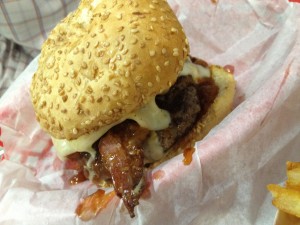 The Taste: Ilan ordered his buffalo burger medium rare and Lindsay made the mistake of following suit even though she always orders her burgers rare. Ilan's burger was topped with pineapple teriyaki sauce and bacon and both were aplenty. He declared before the first bite that he was only allowed to eat half of the burger due to its half-pound size. He found it so delicious and moist that no meat was left by the end of the meal.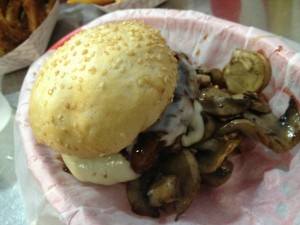 Lindsay enjoyed the mushrooms, teriyaki sauce, and jack cheese, but didn't enjoy the meat quite as much, as it was just a little too cooked for her taste. Of course, this was no fault of Pearl's. Both Ilan and Lindsay thought the bun could be thicker and crumbled a bit throughout the meal. They also ordered French fries, onion rings, and a strawberry cheesecake milkshake. All three were amazing.
The Verdict: Pearl's has a solid burger with a lot of different, interesting choices for both patties and toppings. Ilan and Lindsay would definitely try other burgers from Pearl's, but probably dine at the Market St. location.
Pearl's is located at 708 Post Street in San Francisco, California.
There is a second location at 1001 Market Street San Francisco, California.