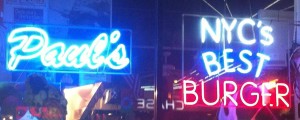 Food for Thought
Burgers Ordered: Brad – The Pizza Burger; Matt – The El Paso.
The Experience: First things first, look at this thing!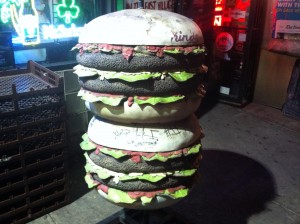 The Burgermeisters are suckers for gimmicky stuff like this!
Paul's is unlike a lot of burger joints in New York, but a lot like burger joints throughout the rest of the country. The trend in the city is to take the burger, meal of the common man, and jazz it up. That trend has manifested itself as expensive burgers in fancy restaurants and burger joints popping up that looking nothing like your typical hole-in-the-wall. Well, Paul's "Da Burger Joint" is the hole-in-the-wall for which we all long.
From the sidewalk, Paul's proudly boasts multiple times over that it has the best burger in New York, or at least the East Village. If the movie Elf has taught us anything, it's that you can't trust a New York restaurant that claims to have the best anything in the city. However, Paul's not only had a spot on the New York Magazine Burger Registry, but it also came highly recommended AND wasn't putting on the Ritz to pretend it was something it wasn't.
Once inside there are nothing but a few modest tables with old checkered table cloths. The beer list is written on a cut up piece of loose leaf paper and the menu is a simple, laminated one-sheeter.
The Waiter Culture is unlike anything we've seen in New York before, but identical to what we've seen in the rest of the country. Instead of the carefully selected young, attractive staff or places like Go Burger and Stumble Inn, or the older and formally-clad staff at J.G. Melon, P.J. Clarke's and Donovan's Pub, Paul's simply hires a wait staff that is competent, middle-aged and dressed in a Paul's "Da Burger Joint" t-shirt. More about this later…
Prentation: The beer came out quick, and the burgers weren't long in following. Brad and Matt both ordered their burgers deluxe, which as always means lettuce, tomato and fries. Paul's serves steak fries, which is always exciting to Brad. Also exciting to Brad was the sizable glob of mayonnaise that arrived on his plate. Matt mixed his mayo with his ketchup, prompting the first words of wisdom from our waitress.
The Burgermeisters never got her name, but the waitress at Paul's was a veritable encyclopedia of burger wisdom. She first shared that McDonalds' special sauce is made primarily of ketchup and mayo, but that we shouldn't tell anyone about that. Oops. Like Brad, the waitress felt that "rabbit food," as she called it, had no place on a burger. The Burgermeisters decided right then to appropriate Rabbit Food for the Burgermeister Dictionary.
She also gave tips on the best way to order a burger if you're getting takeout or delivery. But it was when she espoused the virtues of Paul's that she truly won the Burgermeisters over. She wasn't tooting Paul's horn because she worked there… it was obviously she truly believed that Paul's was the best burger you can get in New York.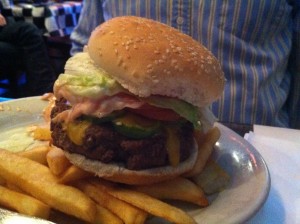 Taste: Compared to his disappointing experience at Island Burgers & Shakes last week, Matt's mind was blown by the El Paso (the Burgermeisters know that calling it "the El Paso" is redundant, but they like how it sounds). He loved the smashed burger texture. He noted how green and spicy the jalapenos were, obviously cut fresh and not from a jar. Though the bun was only alright and the burger was slightly overcooked, he kept praising the burger as he devoured it.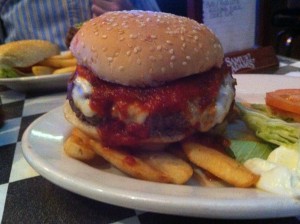 Brad housed his Pizza Burger as well, but wasn't as pleased with it as Matt was. His bun quickly gave in to the power of his pizza sauce and mozzarella cheese. The sauce itself made the burger taste like an Italian meatball rather than a hamburger. Brad felt it was an error on his own part ordering that burger, but still recommends that those who visit Paul's steer clear of it. He said the experience has swayed him a little in the Great Burger Debate, toward more traditional burgers over burgers with a gimmick. It wasn't all bad though, as he did like the texture of the smashed burger and enjoyed the cheese, saying it was like biting into a deliciously thick-cheesed slice of pizza.
Both agreed that the steak fries were serviceable, made much more delicious by the mayo.
The Verdict: Two weeks in a row Brad and Matt are split on a recommendation. Matt's recommendation is glowing. Brad thinks that Paul's probably deserves a second chance with a more traditional burger choice, but isn't ready to go gaga for it after this experience. Once again, your mileage may vary on the burgers, but if nothing else you should go for a great conversation with the wait staff.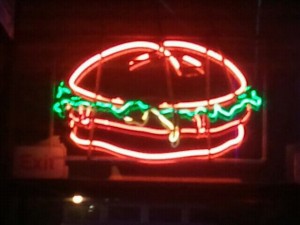 Paul's "Da Burger Joint" is located at 131 2nd Avenue on the corner of St. Marks.