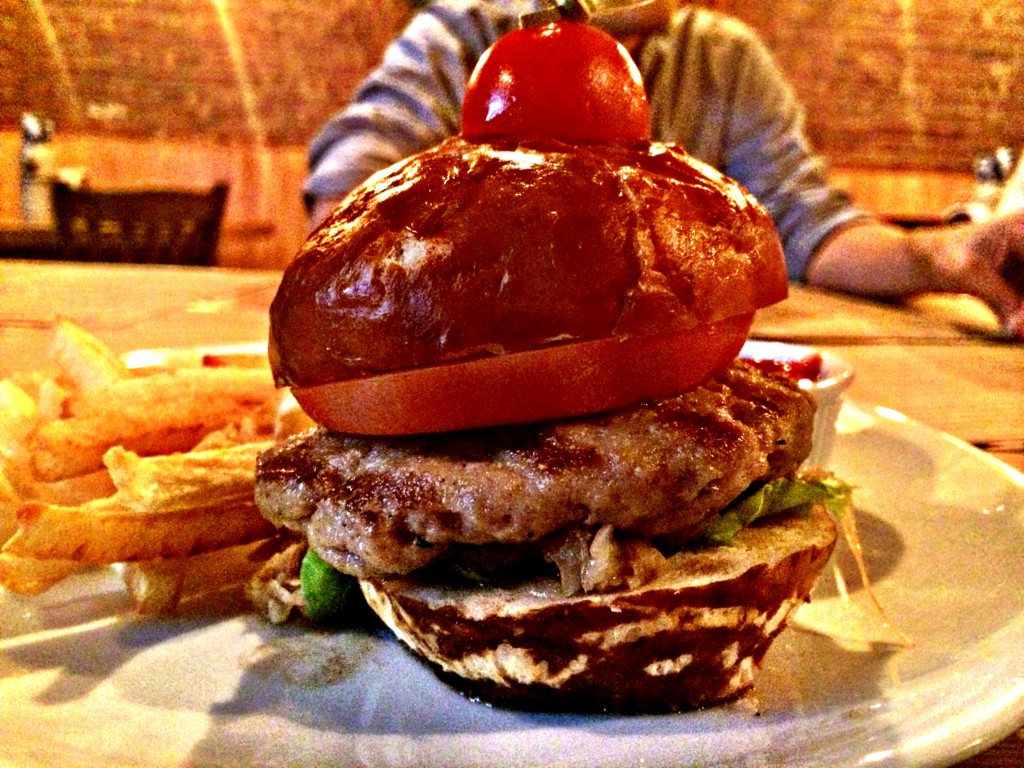 The Experience: Last October, I ate an amazing Oktoberfest-themed Bratwurst Burger at 5 Napkin Burger. Everything about that meal was exquisite, and it left a lasting impression on me. Last weekend I was at a birthday party at the Lower East Side Paulaner Brewery, and I saw a Bratwurst Burger on the menu. How fortuitous that this rare burger variety would reappear on another New York City menu. I was even more excited because a beirhaus like Paulaner would undoubtedly have more experience with sausage patties than 5 Napkin. I was chomping at the bit by the time my burger arrived.
Burger Ordered: The Bratwurst Burger
The Taste: Immediately I was surprised to see a tomato on this burger. A brat burger should embrace what it is and not add typical Rabbit Food staples for the sake of appearing more like a traditional burger. A bratwurst burger needs a pretzel bun, which this had in spades, and mustard, which was present but not in abundance. The sausage patty was tasty, but not as taste bud-altering as the brat burger I'd eaten in 2013.
The Verdict: The Bratwurst Burger at Paulaner is decent enough, though there are tastier things on the menu (I'm looking at YOU spätzle). There are not a lot of options for a bratwurst burger in New York, however, so unless 5 Napkin brings theirs back next month you're going to have to settle for Paulaner's.
Paulaner is located at 265 Bowery in Manhattan, New York.