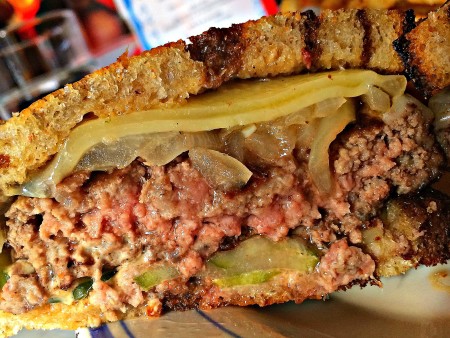 The patty melt is one of my favorite variations on the burger. I've talked about it more than a few times here on Burger Weekly, and today you'll get a double dose of why I think a patty melt done well is a wondrous meal to devour.
I heard about the patty melt at Miss Lily's (pictured above) about a year ago, though it has been on the menu there for quite some time. I joined a few friends for a menu-spanning brunch at the Greenwich Village location. After previous Miss Lily's outings in which I focused on the jerk chicken, I was really happy to finally get my hands on the patty melt. Set on marble rye and topped with caramelized onions, gruyere cheese and pickle, this patty melt was not only the genuine article, but it was also juicy and delicious. It can be difficult to retain moisture in the eponymous meat center of this dish because of the way it is prepared. Making sure the bread is nicely toasted can case the beef to become overcooked. Miss Lily's avoided that completely, and the combination of the moist patty, delicious pickles and wonderful gruyere made my day.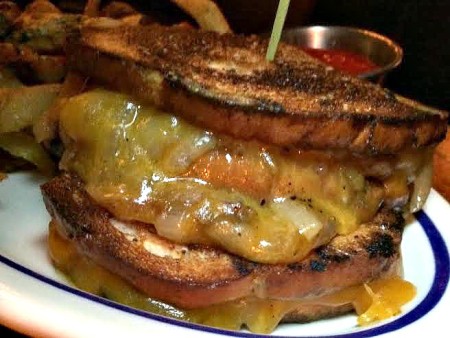 The patty melt at Extra Fancy used to be on the late night menu only. Diners were encouraged to add multiple patties, clams,  eggs, bacon, even lobster. They swapped out the pimento cheese for something more traditional, plopped the patty melt on the dinner menu, and honestly, I think it's better off for it. Two bites of this sucker had me thinking it was decadent enough as is, and the fries that accompany it are top notch.
Every restaurant that serves a patty melt is carrying out a great tradition. Not every restaurant is doing it well, but the two noted here are well worth your time, money, and stomach real estate.
Miss Lily's is located at 132 West Houston Street in Manhattan, New York.
Extra Fancy is located at 302 Metropolitan Avenue in Brooklyn, New York.
Sign up for Burger Weekly email updates!