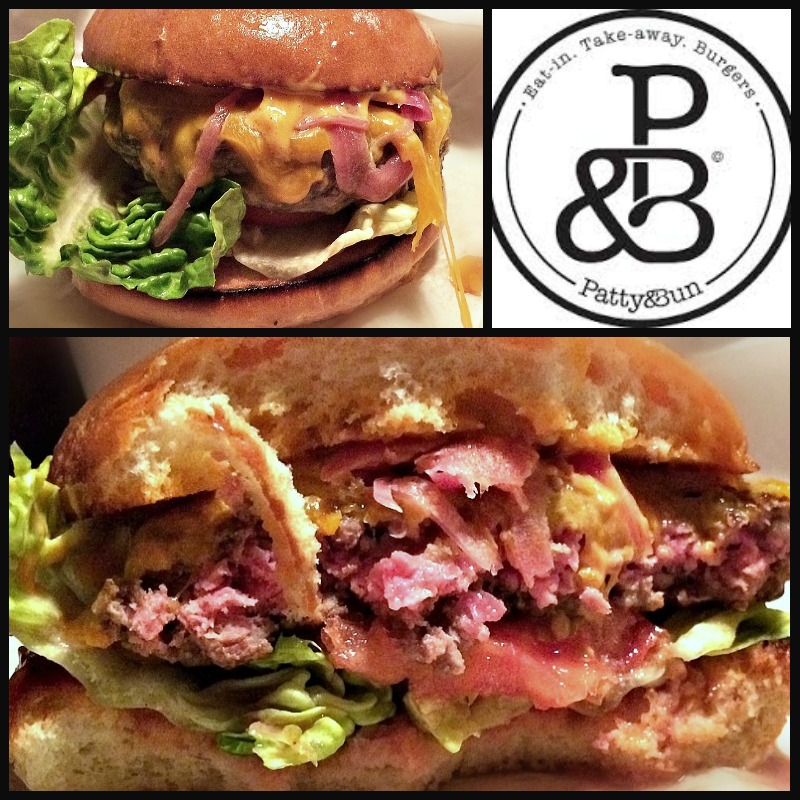 The Experience: Patty & Bun seems to turn up on most top 10 lists for the best burger in the London. Located on the busy James Street near Bond Street Station, Patty & Bun is one of a plethora of eateries on the street. There really is a wealth of choice from sushi to tapas to Lebanese here (the smell of shisha smoke was thick in the air). Patty & Bun don't take reservations, so you have to queue and put your name on a list. Thankfully, burgers are quick to cook up and equally as quick to devour, so the queuing lasted maybe 20 mins.
Burger Ordered: The Ari Gold
The Taste: The Ari Gold, which came with cheese, lettuce, tomato, pickled onions, ketchup, and smokey P&B mayo, served in a brioche bun. The burger patty was cooked wonderfully, a beautiful caramelized char on the outside and a perfect medium pink on the inside.The patty was enveloped by melted cheese that wrapped the meat in a coat of creamy yellow heaven. The brioche bun was excellent, toasted to give a crunch, and with a lovely glaze on the crown. The elements that really lifted this burger were the addition of pickled onion and the smokey mayo. The onion came as soft pink strips, reminiscent of the pickled ginger you get served with sushi. It was sweet and tangy delicious. The smokey mayo added an extra layer of flavour that worked with the cheese and pickled onion to create a burger that made me weak at the knees.
The Verdict: The burger was juicy and perfectly cooked, with a depth of flavour from the various ingredients that was a joy to savour.  My only regret is that I did not have space for a second burger. This was one seriously awesome hamburger.
Patty & Bun is located at 54 James Street in London, England.