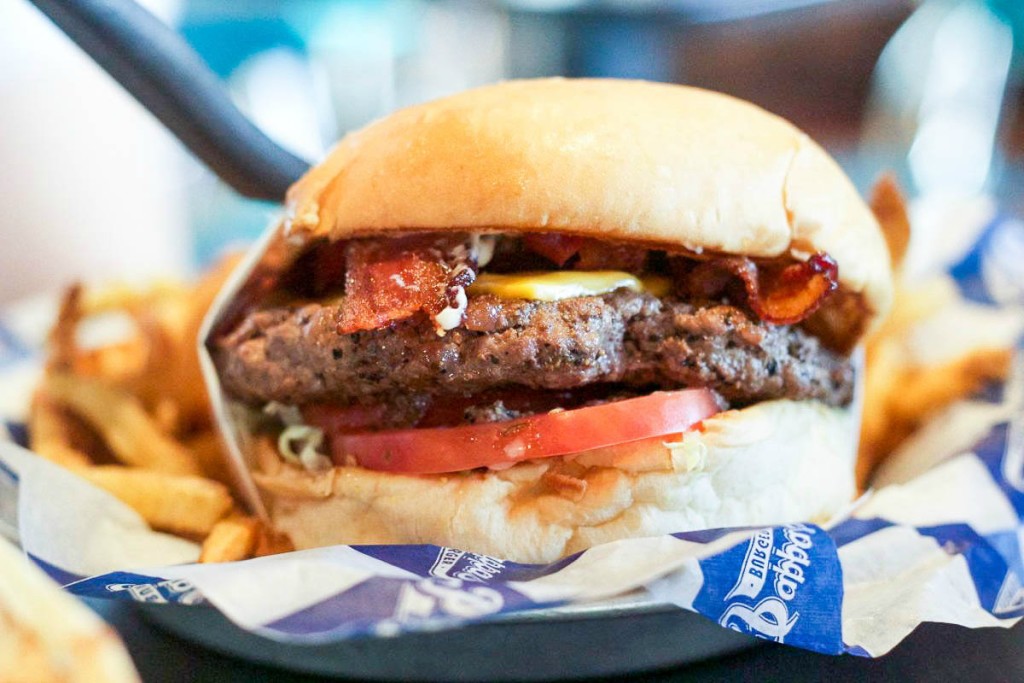 The Experience: I've said it before, and I'll say it again – I love eating in Houston. Plenty of variety and Texas-sized portions. Although not on Texas Monthly's list of greatest burgers, one burger joint that I like to frequent while in Houston is Pappas Burger.
Pappas Burger uses USDA Prime beef for their burgers. USDA. Prime. Beef. My understanding is that they grind the trimmings from the steaks next door at Pappas Bros. Steakhouse (my FAVORITE place to eat steak) for their 1/2 pound beauties. I usually stick with the Pappas Cheeseburger, but on this occasion, I was feeling especially adventurous… I added bacon. I ordered my burger with the usual cast of characters – cheddar cheese, lettuce, tomato, onions, pickles, mayo, and ketchup.
Burger Ordered: Bacon Cheeseburger
The Taste: I asked for my burger to be cooked medium, but it came out a solid medium-well, the standard doneness for their burgers. In most cases this would be an unforgivable offense, but the quality of their meat is so superb that the patty remained tender and succulent. Plus, Pappas seasons their burgers like no other. It might not be for everyone, but I love the strong pepper flavor of their patties. The first half of this burger was pure bliss – beefy, rich…all the components working together in sweet harmony. However, as I hit the second half, I started to regret my crispy, porcine addition. The seasoned patty, pickles, AND bacon exhausted my taste buds with salt. I find it important to note, though, that of all my trips to Pappas this was my first slightly negative experience. I still can't believe that Pappas' burgers are only half a pound. I eat 1/2 lb. burgers regularly, and these always seem so much bigger. But you won't hear me asking them to re-check their scales.
The Verdict: Pappas Burger is a casual burger joint perfect for getting together with friends to catch the big game, and to eat a really great burger. As much as I wish they would open up more locations around the state, I kind of like the fact that there are so few of them. I think it keeps them focused on using the best possible ingredients and delivering a quality product time and time again.
Pappas Burger is located at 5815 Westheimer Road in Houston, Texas.
You can read more of Tim's burger adventures at MJ and Hungryman.