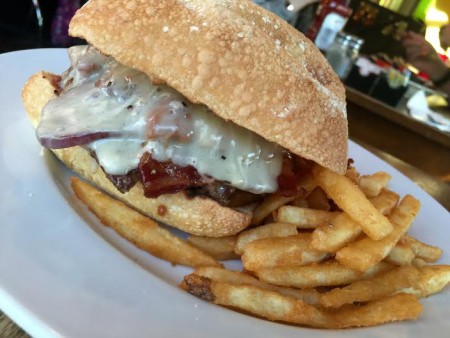 The huge, hearty comfort-food menu makes it hard to decide exactly what you want. Seriously. It took me 15 minutes to finally make a decision, the waiter came over maybe 8 times before I finally said GIMME THE BURGER! You can order everything from unconventional breakfasts to satisfying all day food, hey you can even order a TV dinner if that's what you're feeling. There is (almost) nothing this menu doesn't feature.
In addition to the extraordinary menu, the atmosphere makes quite the unique experience. The owner loves Barbie dolls and you will see them everywhere – naked, clothed, missing heads, and even special edition. The sculptures lining the perimeter of the restaurant make for a great photo op as well. You will feel like you're in a museum!
Oh…It's the burger review you want. Ok Ok, I'll give you what you came for!
Burger Ordered: Southern Love
The Taste: This was a solid burger and that's really all you need to know, but I'll give you the low down. Ground Angus beef smothered in house-made pulled pork bbq, sharp cheddar, and crispy bacon, I assure you the taste is far from mediocre. The sharp cheddar and house-made bbq meld perfectly. Ohhh and the fries, those fries, God bless those crispy little things. I had to force myself to stop picking them up, every time I said: "last one, for real". I ate them all and I'm not proud but I'm certainly not ashamed. However, I might feel differently when I put my bikini on this weekend but damn they were good.
In addition to this mouth watering burger, they have a pretty dope quesadilla. I got one, stacked it high, and ate it like a giant piece of pizza. Check out the California Dream Quesadilla.
Now go check it out for yourself and tell me what you think.
The Verdict: There's no doubt in my mind that I'll be back. I need to try the rest of the menu stat.
Papermoon Diner is located at 227 West 29th Street in Baltimore, Maryland.
Check out more of Jordan's eats on Instagram.