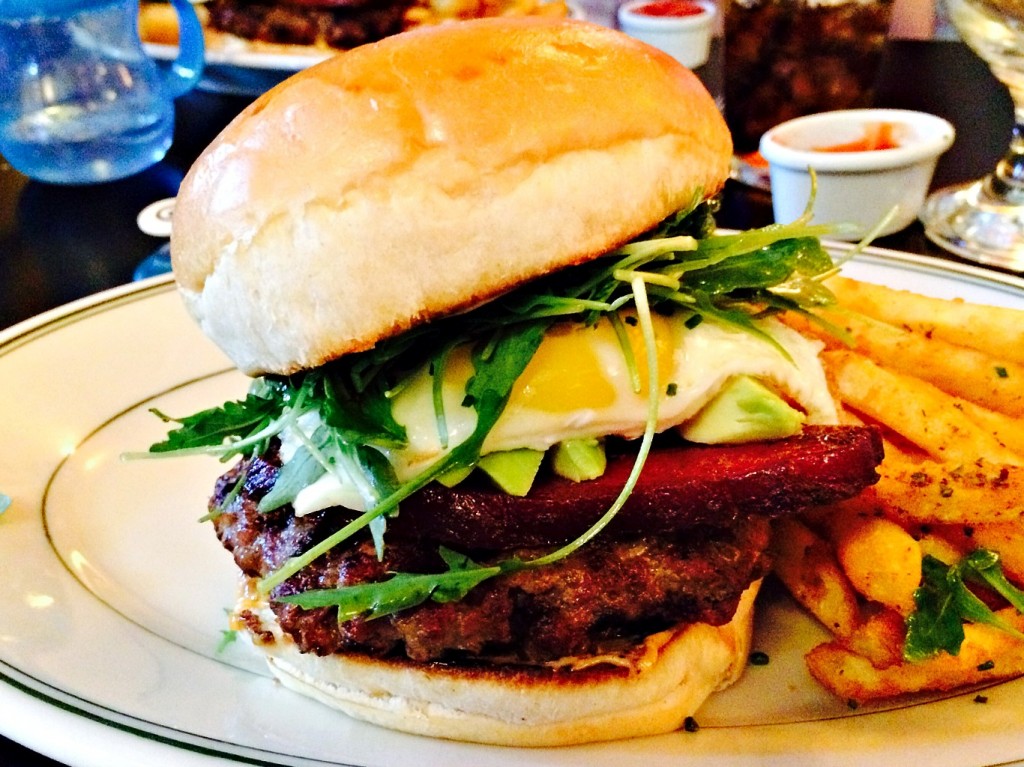 The Experience: The burger scene in San Francisco isn't quite as well-defined as the burger scene in New York City. However, there are a few spots that everyone told me to go to in the Bay Area. One of them was Roam Artisan Burgers. Because of the popularity of this joint however, it was packed to the walls when I met a pair of old friends and their one-year-old child for lunch. There was no way we were bringing a fussy baby into that zoo, so we walked down the street to Palmer's Tavern. The menu at Palmer's was sporting a breakfast burger topped with all of my favorites; thick cut bacon, over easy egg, cheddar cheese, and avocado. It seemed like a worthy consolation prize. The folks at Palmer's were quite accommodating of our young companion, even in his fussier moments.
Burger Ordered: The Breakfast Burger
The Taste: In an interesting twist, we were given options not only for our patty's temperature, but for how our egg was prepared as well. I'd never been given that option before, but decided that it was safest to stick with an over easy egg. I wasn't entirely surprised to find that, while the patty was definitely adequate, it was the toppings that carried the meal. The thick-cut bacon could have been more tender, but was just the right amount of salty. The avocado and egg were in perfect balance, while the bun was very soft and absorbent of the patty's juices.
The Verdict: Last week's burger in San Francisco was superior. At the end of the day, if the patty is completely outshined by its toppings, the burger didn't do its job.
Palmer's Tavern is located at 2298 Fillmore Street in San Francisco, California.