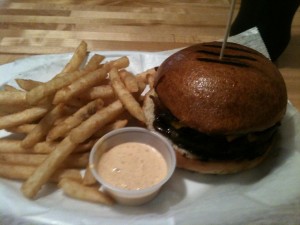 Aesthetically pleasing and delicious too.
Burger Ordered: Christopher – P.S. Texas
The Experience: P.S. Burgers in Mineola is a cool little burger joint with both eat-in and take-out options. Saunter up to the counter and order and if you decide to eat in and they will bring your food to your table. They have a great menu consisting of several signature burgers, sandwiches, hot dogs, and salads. They also have quite a variety of buns, sauces, toppings, and sides as well as shakes, ice cream, and hot & cold beverages.
Lots of flavor in this little burger.
The Taste: I ordered the P.S. Texas medium rare. This burger is topped with smoked bacon, cheddar, and BBQ sauce and served with a side of fries. When this burger came out it looked absolutely beautiful and I had extremely high hopes. When I took my first bite I was totally overjoyed. What a tasty burger! It had nicely cooked bacon, tangy BBQ sauce, and it was cooked to medium rare perfection. I liked this burger a ton. My only negative comment is that I would have liked for it to be a little larger. But that's a small, small complaint. The fries were hot and crispy and served with a yummiful horseradish dipping sauce.
The Verdict: I cannot wait to return and sample some more of the delicious burgers at P.S. Burgers.  I want to try some different sides as well. This place was great and I highly recommend it to anyone in the Nassau County area.
P.S. Burgers is located at 198 Second Street in Mineola, NY 11501