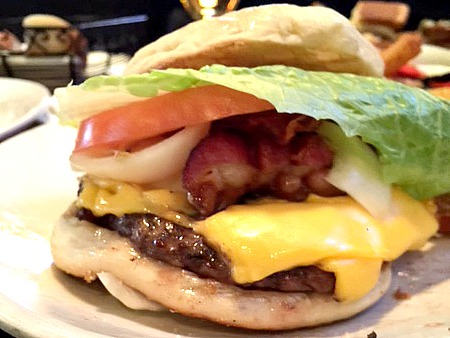 My quest for the best burger on Staten Island has brought me to O'Neill's Pub and Restaurant. It is an Irish themed pub and restaurant on the North Shore of SI. As far as I'm concerned, the island is split between the more blue collar North Shore and the more moneyed South Shore, which has a Long Island-feel. However you look at it, the two shores share one huge similarity; GREAT FOOD.
When you enter O'Neill's, a large bar with 4-5 large flat screens grabs your attention. On the opposite side, booths with excellent woodwork line the wall. The attention to detail is impressive, and gives an authentic Irish and strikingly New York feel tot he place. The owner did a great job. We were seated immediately even though the place seemed pretty busy. Our hostess walked us into the dining room which shares that same attention to detail, with a large bar anchoring the back of the room below a huge flatscreen, which was showing a college basketball game.
Burger Ordered: Bacon Cheeseburger
The Taste: As soon as we sat I ordered a Killian's Irish Red, the wife had a Stella. I had done my research, so I knew what I was ordering from jump street. I started with a French onion soup, which you can tell was house-made (at least I think it was), but I wasn't impressed because I prefer the more generic French onion soup that you can get at a local diner. I know sounds stupid, but this is my review and now you have a better take on my palate. Next up was spinach artichoke dip, which was excellent. They used red, black and regular tortilla chips for dipping. The dip was insane, rich, creamy and piping hot. Even my wife who is normally very critical food-wise looked across the table and commented about how good it was. Needless to say, we destroyed the dip.
I ordered my typical, my go to. I feel that keeping it simple is the best path to the best burger, so I ordered a bacon burger with American cheese, cooked medium with LTO on a sandwich-sized English muffin. The burger came out rather quickly, perfectly timed behind our appetizers. My patty looked amazing. It wasn't much bigger than the English muffin, with ample melted cheese, and crisp lettuce tomato and white onion. I added a dab of ketchup and it was on. The burger was juicy and substantial. The patty was an 80/20 blend that was cooked to medium perfection. It played beautifully with the melted American and the crispness of the English muffin. Needless to say, I was impressed. The fries were good too, straight cut seasoned babies that had the right amount of give and crunch. Crack, as my man Brad always says!
The Verdict: O'Neills was excellent. The burger was one of the better ones I've had in the area in some time. That coupled with the authentic Irish decor and great atmosphere made O'Neills a joint that is winning over here in Staten Island. I recommend checking them out the next time your on the island.
O'Neill's is located at 1614 Forest Avenue in Staten Island, New York.
Sign up for Burger Weekly email updates!