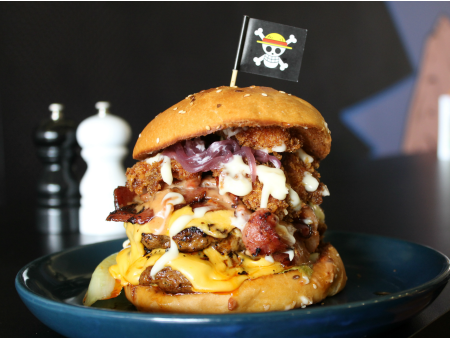 The Experience: Out east there a unique cafe serving up some quality eats. I went into One Plus Piece Cafe the other day not knowing much, and I was wowed. I fell in love with the pirate anime theme and the Japanese influenced flavors and decor. One Plus Piece has a diverse all day menu, with a solid burger menu leaving you open for choices. They recently launched burger nights, so you get your evening fix after a hard day. They've also just installed a soft serve machine to satisfy all your sweet needs.
Burger Ordered: One Piece Burger
The Taste: For being a triple meat burger, this wasn't overly tall or heavy. Halfway through, I forgot that it came with the chili beef patties, and found that they do pack a nice hit and were very juicy. I didn't hesitate to add the Japanese chicken. The coating was amazing and packed a great crunch. The thigh meat chicken was quite succulent. I couldn't have been happier with the Japanese mayo and the One Piece Sauce, a killer combo that set things off along with the perfectly melted cheese. One Plus Piece's bacon was game on point; it could not have been cooked better and was a nicely cut. The burger was topped off with a tasty and structurally sound bun.
The Verdict: Fresh, quality and unique flavors and ingredients made for an excellent eating experience. I'm excited to see how things progress with burger night and feel that I will be back sooner rather than later.
One Plus Piece Cafe is located at 266 Whitehorse Road in Balwyn, Victoria, Australia.
Check out more Australian burger adventures at Damoforce.
Sign up for Burger Weekly email updates!