The Experience: You can read about my general experience at the Blue Moon Burger Bash here, so check that out to get the scoop on the entire event. I will go over the rules I put in place for myself again. First, I would not sample burgers from places I'd previously visited, no matter how much I wanted to. Not having the burgers from Go Burger, Schnippers, and Burger & Barrel was very difficult for me. Second, I would try to eat burgers at New York restaurants that normally serve burgers. I played fast and loose with this rule. Third, I would not eat to the point that I'd become sick. This was the hardest one to stick to. Abiding by those rules I got the only full-sized un-quartered burger of the evening from Old Homestead, and prepared my stomach for war.
Burger Ordered: Cheeseburger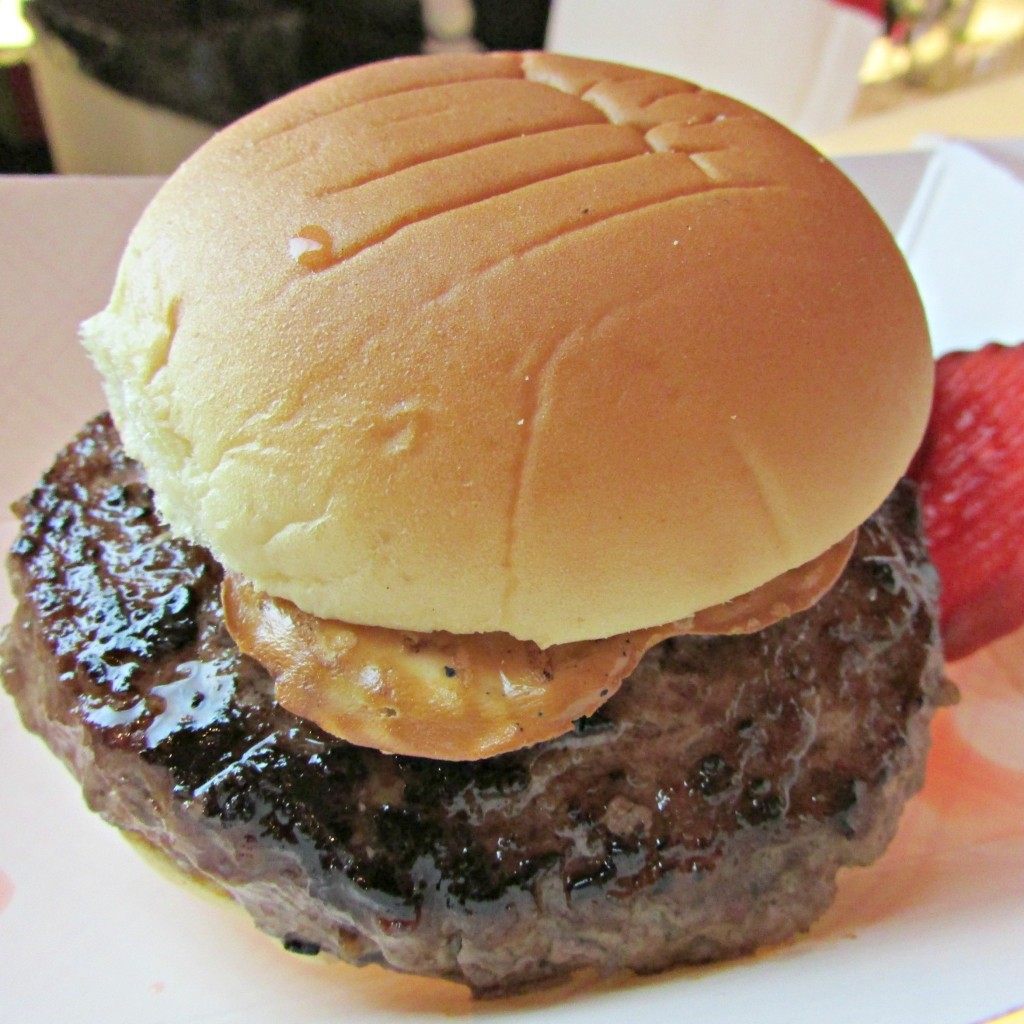 The Taste: I think this review might be cursed, for a few reasons. First, I've written it a few times, and the content management system keeps deleting it. That is beyond annoying. Second, Old Homestead's burger offering at the Blue Moon Burger Bash was the only real dud of the evening. On a regular night, you can go to Old Homestead and order a burger ranging from $27 – $45. At those prices you expect a great burger. If the cheeseburger they served on this night is any indication, it's not worth it. The patty had no flavor, so my assumption was that they expected the burger to be carried by the condiments. The Floyd Kentucky-style Beer Cheese was not noteworthy either. The pretzel crisp that adorned the burger to give it a crunch felt totally out of place, to the point that I ate it separately when I tired of the bland beef. The only noteworthy toppings were the Kool-Aid covered pickles. I didn't think this flavor combination would work, but it did. That said, it couldn't save this hamburger.
The Verdict: This was the only real dud at the Burger Bash. The most important part of the burger, the beef, was neglected in favor of gimmicky toppings. I'll take well-seasoned beef over funky toppings any day of the week.
Old Homestead is located at 56 9th Avenue in Manhattan, New York.