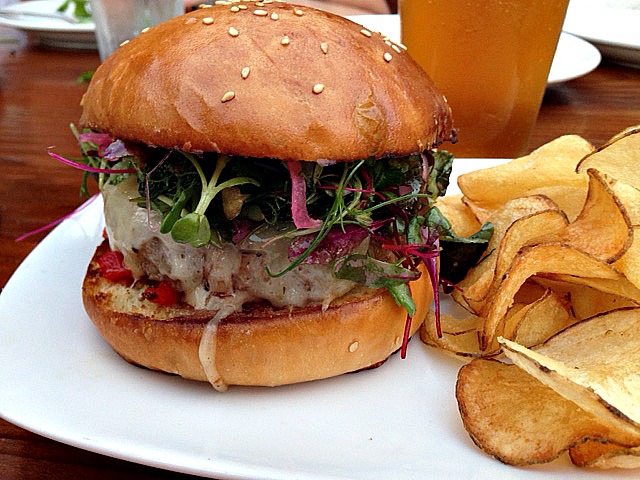 The Experience: We sat outdoors at Oak and Rye on the comfortable street patio along Santa Cruz Avenue in downtown Los Gatos for burger Monday night. In contrast to the comfortable patio, acoustics in the main rooms are terribly loud and "echo-chamberish," making it a real workout to have a normal conversation.
Our waitress did a great job patiently taking our customized orders ("…relish on the side, as little cheese as possible, etc.) and was cheerful, friendly and attentive. Our one request for catsup was respectfully denied by the kitchen staff, but they did bring some spicy mustard. Our one vegetarian diner ordered a pizza and several salads (arugula, shredded cucumber and Caesar) which were all very good.
Burger Ordered: Monday Burger
The Taste: My burger was cooked as ordered with red onion relish, red pepper sauce, manchego and some mixed greens and served on one of their home made buns. Oak and Rye uses brisket meat and the flavor was rich, meaty and appropriately juicy. I would have like a little more char flavor and texture to my burger, but it was otherwise well presented and nice and hot.
The Verdict: This was our first time at Oak and Rye's burger Monday and we will definitely give it another try soon. Each Monday they feature different themes such as manchego cheese, garnishes, sauces and different types of beef.
Oak and Rye is located at 303 North Santa Cruz Avenue in Los Gatos, California.