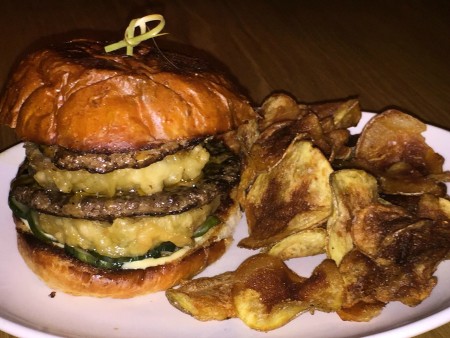 Oak + Char had been on my list of burgers to try for some time. It is a relatively new bar in the heart of River North that makes for a great group dinner spot. I was especially excited to try this burger because I had heard amazing things about Chef David Wang (of Coppervine and Acadia). I pride myself on going anywhere to try new and great burgers, but it's the restaurants downtown that have the money to hire the great chefs. This created hype, so I was excited to bring a few friends.
When we walked in to Oak + Char, my attention was immediately brought to the bar and the long seating arrangements throughout that area. To the left of us, there was a group of 12 that were seated comfortably, sharing massive portions. The only issue was that once I looked down at the menu, I realized their bill was going to be massive too. That is the downfall of River North; the patron is paying for the convenience of eating downtown. Per usual, I ordered the burger and my guests followed suit.
The Burger: Prime Double Cheeseburger
The Taste: The Prime Double Cheeseburger is made up of two beef patties, two greasy beef fat onion rings, bourbon pickles and something called C+D sauce. The first bite of this burger was delicious, literally finger licking good. But as the bites continued, the burger's taste became flat. What I mean by that is the fat, greasey onion rings didn't add any flavor and actually took some away. Everything else on the burger dripped flavor, but the onion ring dough was too much to handle. In fact, I spoke to the chef about the burger and he had agreed. It turned out that they were in the midst of a menu change and the burger I had would no longer be offered, which means I am in need of another visit. Last time I looked at their menu, they added a Juicy Lucy. Now that is something, I'd like to try.
The Verdict: The atmosphere and the other items on the menu looked good. The ingredients in the burger were fresh, cooked to order and tasty. However, as my friend said, "I can't finish a burger with this much dough." Of course I finished it, but I definitely wish I had taken the onion rings off like he did. Though I am not bashing the restaurant, I will definitely be back to try their new menu.
 Oak and Char is located at217 West Huron Street in Chicago, Illinois.