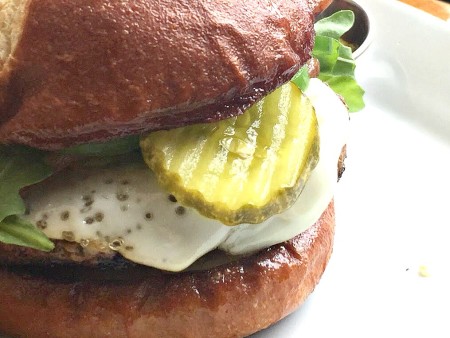 The Northside Bar & Grill is located in Wicker Park, an area that is the epicenter of being hip in Chicago. On this day, I was not in a good mood.  I had waited at a popular restaurant for over an hour for them to tell me they had run out of beef for their burgers. As I was walking around pissed off with two of my friends, I stopped at another spot I had wanted to check out for a burger review, only to find another hour-long wait. The day was turning into a lost cause, and then my friend shot up and said, "Hey, I have been to the place across the street and it is good!"  We walked into Northside and the place was empty. I thought to myself, "Great, another terrible spot." Luckily, we had a kick-ass waitress who turned my mood around. She got me excited about the burger I was about to order, saying it is better than the two others I almost had before it. I will be the judge of that.
Burger Ordered: "Bacon Burger" with a Sunny Side Up Egg
The Taste: The burger contains a half-pound patty, American cheese, apple-wood smoked bacon, egg, pickles and Sriracha mayo. Maybe I was just so elated to finally be eating a burger, or maybe this burger was goooood. The meat was cooked medium-rare, the cheese dripped off the sides, and the sunny side up egg oozed everywhere. The burger was lacking seasoning but everything else was great. Each bite was juicy and had some kick due to the spicy mayo, which was a pleasant surprise. I am not normally a mayo fan, but the zip on top of the burger was welcomed. Per usual, I devoured this burger almost too quickly. I should have savored it a bit more but it was too good.
The Verdict: Sometimes you find hidden gems, and Northside is one. Wicker Park is filled with popular restaurants, but don't be fooled by the old looking joints. There is a reason they look old; they have been there for a while! Keep on flippin' those burgers Northside. I'll see you soon.
Northside Bar & Grill is located at 1635 North Damen Avenue in Chicago, Illinois. 
Sign up for Burger Weekly email updates!