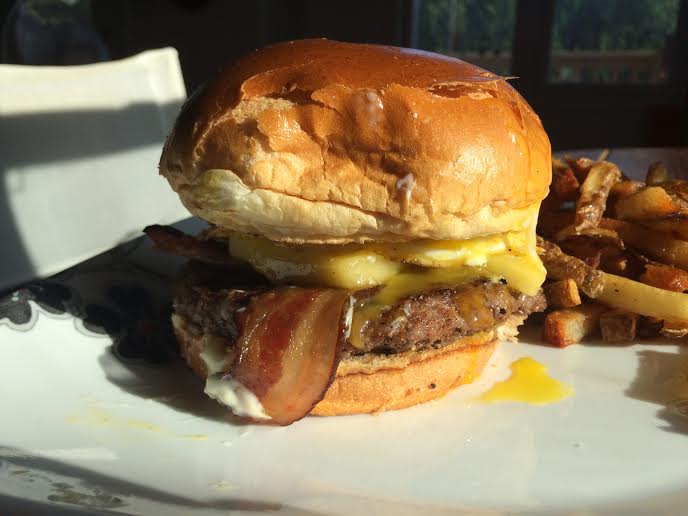 The Experience: This is the new establishment in town, and when you live in a town as small as Boyne City a new restaurant is cause for excitement. That's not a knock on my current place of residence by the way – I rather enjoy being here. I also rather enjoy that this restaurant has opened up. It has a very rustic feel, and is definitely going for a different vibe than the other places in town, which is nice.
Burger Ordered: Northern Table Burger
The Taste: Northern Table boasts of being a "local farm to table fare" restaurant, which makes their burgers an enticing option. The Northern Table Burger is Alpena Hidden Valley beef, adorned with Plath's bacon, a fried egg, onion and garlic cheese, house made mayo, and greens. This is a nearly perfect combination for a burger, and the flavors mingled together like old friends catching up at a bar. It was cooked a perfect medium rare, so my compliments to the chef. This burger needed a Burger Lift in the worst way – though I may not have even used it because I had a hard time putting this bad boy down. Also, the hand-cut French fries were done expertly, with the right amount of crunch and salt to accompany the outstanding burger.
The Verdict: This is an awesome burger, one I will happily eat again. I don't have an official ranking of the Northern Michigan area at this time, but if I did this one would be a top 5.
Northern Table is located at 220 S Lake Street in Boyne City, Michigan
Sign up for Burger Weekly email updates!