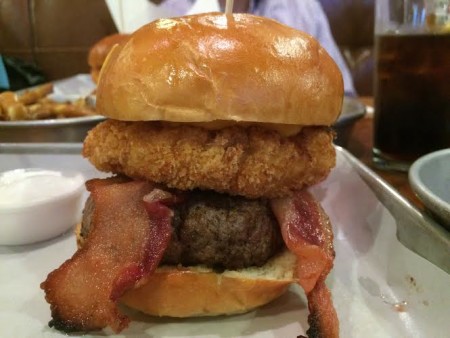 Massapequa is having itself quite the burger explosion these days, with several new establishments opening up recently. New York Burger Bar has a Long Island pub feel with a good sized bar and waiter service in its dining area. If you're in a party of two like I was, you may find the seating a little cramped, however the tables for three or more offered more space. 
A negative for me was that the place on the small side and pretty packed, which meant a pretty loud dining experience. Another negative which I unfortunately need to point out is that the parking situation is not ideal. They don't have their own lot and if you park at the bowling alley lot next door, you'll get towed.
Burger Ordered: Massapequa Mustang Burger
The Taste: This place has a pretty substantial burger menu as well as four different varieties of poutine and a nice sized appetizer menu. I decided to go with their classic poutine, which consisted of their house cut fries topped with cheese curds and brown gravy. This was pretty good poutine. The curds were a little on the small size and I could have gone for more of them.
I went with the Massapequa Mustang Burger; 8 ounces of beef topped with fried mac & cheese and bacon on a torta bun. The torta bun was soft and flavorful, and really held up well under the weight of the patty and its accoutrements. The patty was cooked perfectly medium rare and was nice and juicy. The fried mac & cheese was crispy on the outside and gloriously cheesy on the inside. The bacon was thick and delicious too.
The Verdict: With a nice sized burger menu as well as several different kinds of poutine, appetizers and desserts, this joint is definitely on my list of places to hit again. My only advice would be to car pool if you're going with a crowd.
New York Burger Bar is located at 4225 Merrick Road in Massapequa, New York.
Sign up for Burger Weekly email updates!