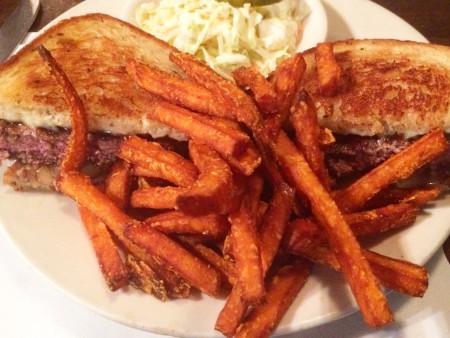 Located on Main Street in Huntington, Munday's is a family restaurant that has an old school diner menu but doesn't try to lay the nostalgia and schmaltz on too thick. The atmosphere is genuine, and two wall mounter flat screen TVs cycle through photos of families enjoying their time in the restaurant.
Burger Ordered: Patty Melt
The Taste: I have to admit that I can be pretty harsh on patty melts if they aren't done well. In a joint with a family restaurant set up and a menu reminiscent of an old style soda fountain, I figured it was a good bet that they did patty melts well at Munday's. My faith was rewarded and this one more than hit the spot. The beef was cooked perfectly and the onions were caramelized just right. This patty was placed on some of the best rye bread I have had in ages. The sweet potato fries were also of good quality and I polished them off in no time at all.
The Verdict: If you're in Huntington and looking for a really good patty melt, or maybe a milk shake or a slice of pie, you could definitely do a lot worse than Munday's and I certainly recommend checking it out.
Munday's Restaurant is located at 259 Main Street in Huntington, New York.
Sign up for Burger Weekly email updates!