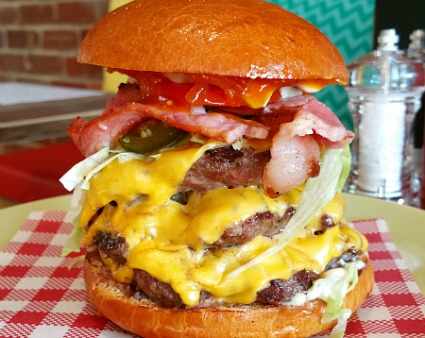 The Experience: I caught wind of a new burger joint opening up near my home called Mums Burger Kitchen. It's fair to say i was pretty excited with the news, so I went in on opening day to check it out. Mums is a nice fresh venue, but the layout a little awkward and the drinks fridge was tucked around the corner and I didn't notice it until I was leaving. I was excited for mac and cheese, but was let down because it wasn't available when I was there. How is an item not available on opening night?
Burger Ordered: The Pamela Burger w/ an extra patty, bacon and jalapeños.
The Taste: I noticed that my burger was finished before my friend's burger and they were holding it back. I had worries that it was going to be on the cold side, and when arrived and I was proven correct. Still, the beef was cooked perfectly, melting in my mouth with each bite. The cheese was melted perfectly over the patties and tasted on point.  However, the bacon was left with almost no warmth in it and also was quite undercooked. The jalapeños, lettuce and tomato were quality fresh ingredients, but I was let down a tad with the lack of punch in the sauces.
The Verdict: I am torn on this burger, due to the beef being amazing, the cheese being on point and the buns being solid, while coldish temperature and other misses were highly disappointing. There is plenty improvement that could be made here, and potential to be realized, so a revisit may happen one day.
Mums Burger Kitchen is located at Shop 5/159 Boronia Road in Boronia, Victoria, Australia.
Check out more Australian burger adventures at Damoforce.
Sign up for Burger Weekly email updates!