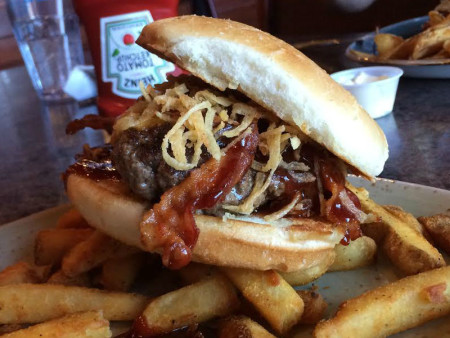 I went to high school in a little town called Elk Rapids. But I lived a little south of there in a mailing address of a town called Williamsburg. Now it's the home of the vast Turtle Creek Casino, but before those days Williamsburg was two gas stations, a post office, and a baseball field. Anyone wanting to do something as simple as go to the grocery store had to travel over to Acme or up to Elk Rapids. So, forget about any dining out options, those were all "in town." Long after I had moved away, a restaurant finally opened, giving the residents of Williamsburg somewhere close by to have a meal out. Capitalizing on the popularity of brew pubs, Mr. C's Pub & Grill was born.
Burger Ordered: BBQ Bacon Burger
The Taste: This is a very good burger. All Mr. C's burgers are half pound, and the BBQ Bacon Burger comes with bacon, jalapeno, cheddar cheese, BBQ sauce, and is topped with haystack onions. I 86'd the jalapeno because it's just not my thing, but the rest of the ingredients were delicious. Everything they serve is made fresh and in-house, and the taste reflected that. I'm a big fan of the BBQ Bacon type of burgers and this one stacks up nicely. The bacon had a nice crispiness and the saltiness went well with the sweetness of the BBQ sauce. Haystack onions on top are clutch, adding a nice crunch. The bun was nice and soft, and held the perfectly cooked medium burger all the way to the end. The house fries that came along were awesome and I could've eaten more of them than I care to admit.
The Verdict: Mr. C's is a great addition to Williamsburg, a cool pub atmosphere in a place that really needed one. I'll be happy to go back there any time.
Mr. C's Pub & Grill is located at 9009 M-72 East in Williamsburg, Michigan
Sign up for Burger Weekly email updates!