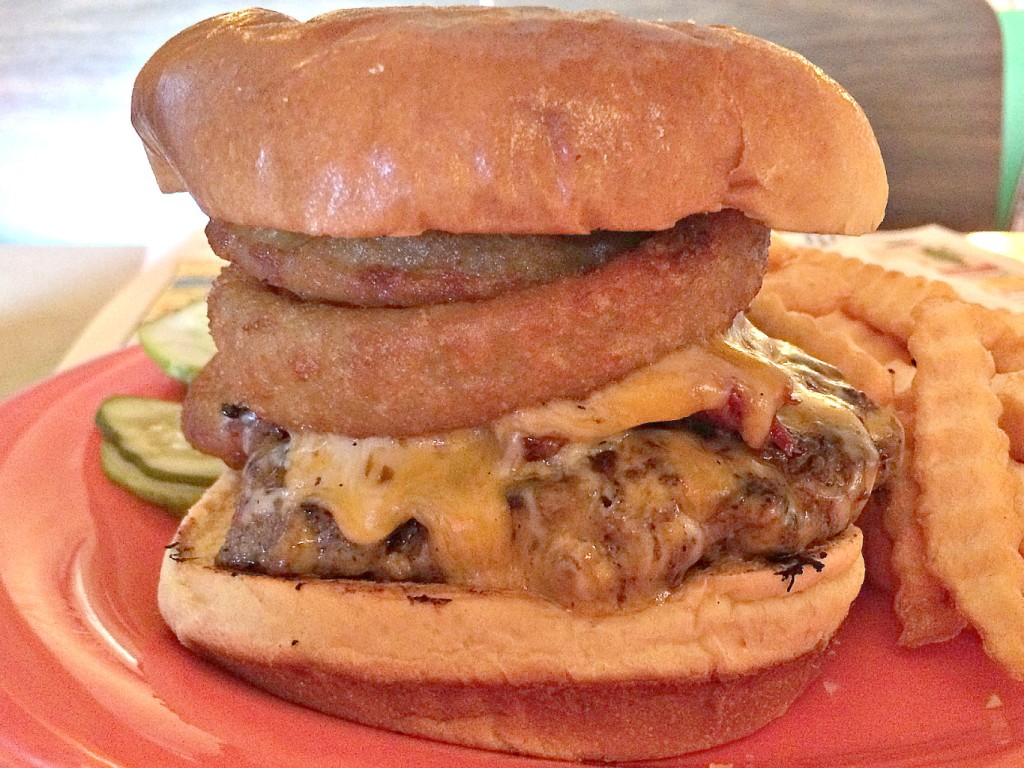 The Experience: Boyne Falls is a tiny town of less than 300 residents, but it not only boasts a four-season ski and golf resort (where I work), but three additional restaurants as well. One of those restaurants is the Mountainside Grille, conveniently located by the stoplight at the intersection of 131 and 75. Nearby Jake's Place is a straight-up bar, and Betty's Restaurant only stays open until 3pm, so Mountainside Grille is the only non-resort restaurant to be open for breakfast, lunch, and dinner. I found myself looking for something outside my work sphere, and Mountainside Grille fit that bill.
Burger Ordered: Western Burger
The Taste: The Mountainside burgers are "famous charbroiled burgers" according to the menu, and I can verify that statement is at least half true. Western burgers are a favorite style of mine, and this one comes with BBQ sauce, Cheddar cheese, and an Onion Ring. I wasn't asked how I wanted the burger done, which always makes me nervous, but this one still came out okay. Western burgers are easy to make good, but they are very difficult to make great. This burger falls into the good category, as nothing about it was wrong, but nothing about it was great either. Still, this was an easy burger to consume and it definitely was an enjoyable lunch hour for me. The crinkle cut fries were pretty standard offering but did the trick.
The Verdict: This is a fine establishment with few frills, but they pulled together a solid burger and left this Burgermeister more than satisfied. While it's not one I'll go back to over and over again, the Mountainside Grille hooked me up with a good burger at a good price, and that's all I can ask.
Mountainside Grille is located at 2495 US Highway 131 South in Boyne Falls, Michigan.
Sign up for Burger Weekly email updates!