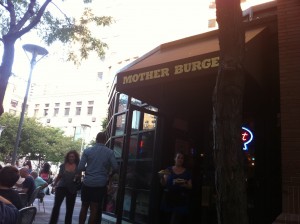 Reunited and it feels so good.
Burgers Ordered: Brad – Mother's Nacho Burger; Matt – Uncle Matt's Wing Burger.
The Experience: Here at Burger Weekly we promise you one burger joint review every single week, and not even a hurricane could keep the Burgermeisters from doing their civic duty. But the road to this week's Burger Weekly outing was paved with difficult obstacles.

Brad started last week doing a solo review of LaGuardia Airport's Custom Burgers by Pat La Frieda. The experience, while delicious, was hollow without his Burgermeister-companion-for-life Matt there to be a glutton alongside him. In their time apart Matt had planned to do a solo review of his own, first of Five Guys and then of the Bronx Ale House, but neither of those reviews panned out for differing but equally idiotic reasons.
Matt went with Frankie (a future guest Burgermeister to be sure) to Five Guys for their signature meal. However, without Brad's guidance he forgot to take a single note, picture or moment of video down until he'd already finished devouring his burger. Though there was still a full cup and bag of fries left (those who have been to Five Guys are surely aware of the gluttonous amount of fries they serve), there was no red meat to document and thus the meal had been wasted. Matt had then planned to go to the Bronx Ale House, but an appointment he'd made with a locksmith forced that to be cancelled.
Because of this it was even more important for Brad to get back to New York from his vacation in Detroit so that the Burgermeister Promise could be upheld. But because of the Hurricane Irene-prompted closing of New York area airports, there was only one way for Brad to return on time. After a ten hour drive, at one in the morning, Brad walked through the World Wide Plaza during his final steps home and caught Mother Burger's awning out of the corner of his eye. He texted Matt a picture of the place, and the two knew that this was where the Burgermeister reunion would take place.
World Wide Plaza is the perfect place for an early evening end-of-summer dinner. The Burgermeisters were promptly seated at an outdoor table in the middle of a well-populated dinner crowd. The two opened their menus and there was no question which burger each of them would order.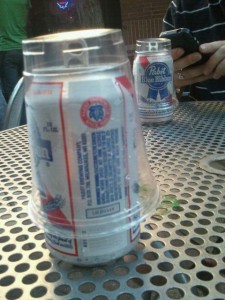 Presentation: Mother Burger prides itself on offering all four major food groups: Burgers, Hot Dogs, Fries and Beer*. The Burgermeisters aren't interested in Hot Dogs, but they were sure to tackle the other three groups. Matt eagerly ordered a can of PBR, and Brad couldn't help but catch Matt's contagious enthusiasm.
Matt also knew right away that he had to order the Wing Burger. After all the burger carried his namesake. Brad kept his spicy streak alive by going Mexican and getting the Nacho Burger. The waitress pulled a McDonald's move and came back to the table to ask the Burgermeisters if we wanted to Deluxe-It (add fries to our order). Brad and Matt were happy she did, because just in the way that they sometimes forget to request their burgers cooked a certain way, on this night they wanted their second stomachs filled with fries.
Taste: Uncle Matt's Wing Burger is covered in spicy wing sauce and topped with bleu cheese. It also comes with the traditional burger add-ons. Upon tasting it he exclaimed that it was perfectly cooked to order. Both he and Brad realized that their past experiences getting overcooked burgers had left them scarred and now surprised whenever a griller gets it right. Matt said he knew the wing sauce was there when he bit into the burger, but didn't have to feel it gush into his mouth. He appreciated that it wasn't overwhelming and that it had a good aftertaste.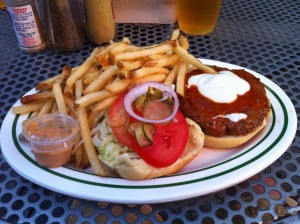 The Nacho Burger was a typical Mother Burger topped with tortilla chips, Pepper Jack cheese, tomato, jalapenos & guacamole. Brad equated it to a messy beef taco with a bun. The beef's flavor was lost in all the guacamole and jalapenos. Much like the Bibimbap Burger at Social Eatz, the ethnic flavor of the burger overwhelmed the patty itself. Brad said it tasted delicious and left him quite full, but warned that those looking for a traditional burger should seek other means of satisfaction.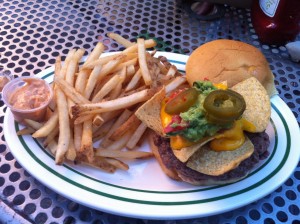 The fries were good but unspectacular… that is until the Burgermeisters dipped them in "Mother's Special Sauce," Mother Burger's take on spicy mayo. This was a real triumph. Brad did warn however that eating the sauce, the spicy burger and drinking beer might wreak havoc on the digestive systems of those with weaker stomachs.
The Verdict: The Burgermeisters couldn't be happier to be reunited, and Mother Burger proved to be a fine venue for the reunion. They do serve traditional burgers for those burger lovers that don't want anything fancy. And for those of you who like to change it up there are at least two options to do so here.
You Decide: A subsequent conversation that Brad had brought up a question that the Burgermeisters need your help answering. What makes something a perfect burger? Does it have to be a traditional hamburger; cooked medium to medium well, with lettuce, tomato, onion, pickle, ketchup and/or mustard? Can a truly amazing burger draw outside the lines, like Mother Burger's Nacho Burger does? Tell us in the comments what you think.
Mother Burger is located at 329 West 49th Street in the World Wide Plaza.
*Milkshakes can be subbed in for Beer.